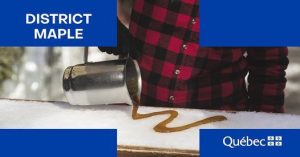 DISTRICT MAPLE: A Maple Takeover at The Wharf!
It's a special day at Camp Wharf! The Québec Government Office in Washington, DC presents District Maple—a Camp Wharf takeover to celebrate a special spring tradition in Québec, Canada—maple taffy. On Saturday, April 17 from 12pm-5pm, come taste la tire d'érable sur neige, a Québec springtime favourite, made with 100% pure maple syrup poured over "snow" and rolled into hard taffy on a stick! Samples are free while supplies last.
Share your photos at District Maple with @thewharfdc and @qcwashington using #DistrictMaple and #QuébecDC.
**While visiting the kiosk, please follow all DC Health COVID-19 directives including mandatory mask wearing and physical distancing.