On the Edge of This Immensity - 2019, Digital C-Print, 101.6 x 152.4 cm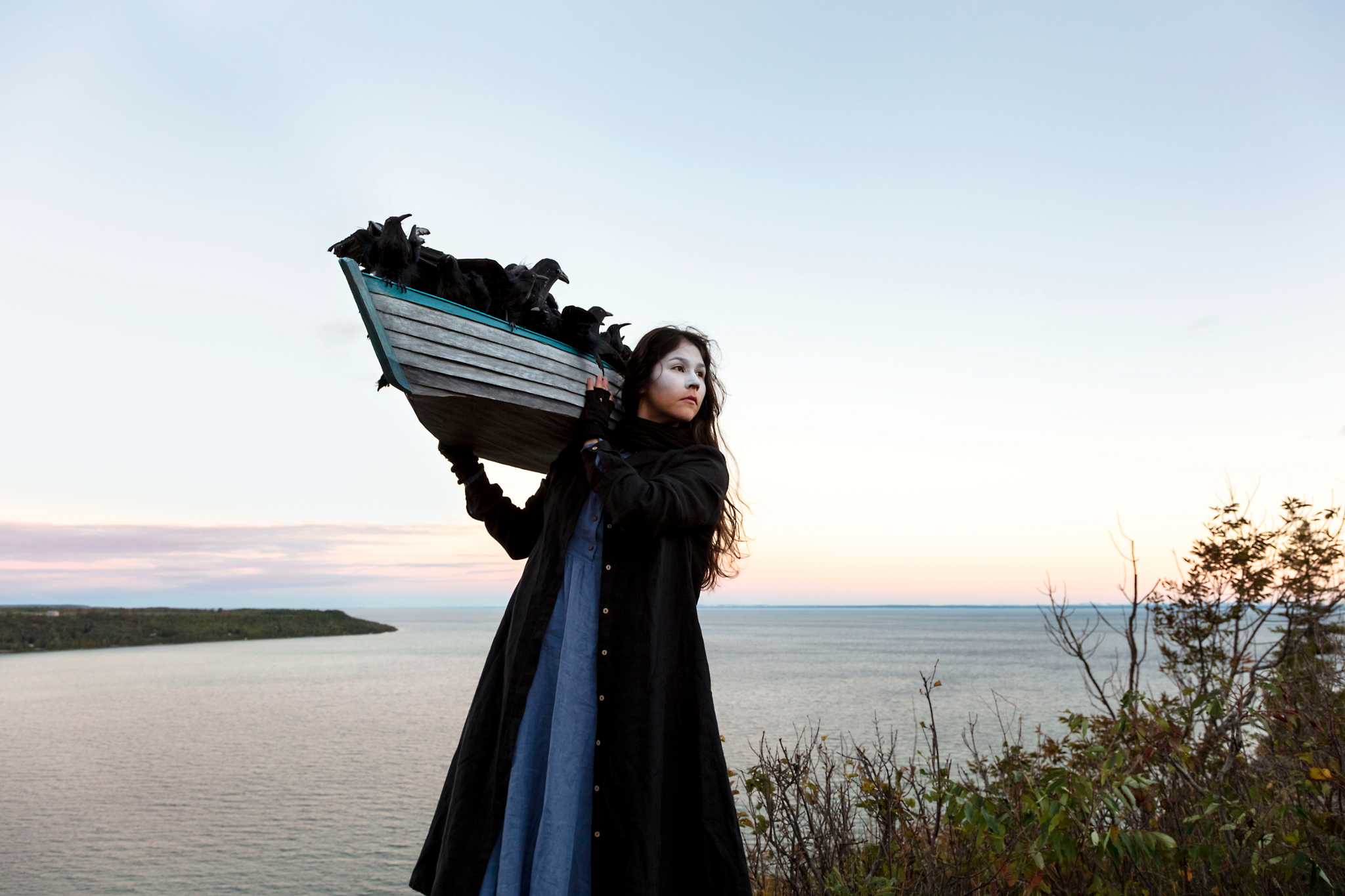 On the Edge of This Immensity
Travelling into unknown land.
Birds as companions and guides.
Retracing ancestral steps.
On paths walked many times.
Great migrations across land and water.
Connecting with kinfolk.
On journeys that lead here.
Time passes by in cycles.
On journeys leading to my being.
Place: Gore Bay, Manitoulin Island, Ontario
kisipāyihk ōta kā misāk
pimācihowin ēsi askiya mōy kā kiskēhtamihk.
pēyisīsak niwīcīwākanak ēkwa itohtahikēwak.
kayāsi osci tahkiskācikanēwina.
mēskanāsihk kā pimohtēhk mihcētwā.
mihcēt misi pimācihowina sāpohtēhk askiy ēkwa nipīhk.
nakiskawihcik wahkōmākanak.
ēta pimācihowina ōta kā takohtēmakahki.
tipahikan māmēscipayin tāpitaw.
pimācihowina itohtēmakahki nitahcikohk.
tāntē: Gore Bay, Manitoulin Island, Ontario
Curator's Notes
This image speaks to the great migrations that have taken place across water over multiple centuries. McMaster considers the many families and migrants who have entered into Canada on a boat and explored out of it, including her own ancestors.
Taken at Gore Bay, near where McMaster's maternal great grandmother was born, McMaster had never visited this area of Ontario when she began the project. Through her research she learnt that, on her mother's side, her ancestors had emigrated to North America by boat from the Netherlands hundreds of years ago. Initially settling in New York, at around the time of the American Revolution they fled across the border to Canada, settling first around Picton, Ontario, later moving North to Manitoulin Island. Finally they travelled westward to Saskatchewan where they settled permanently and became farmers.
Birds reoccur in McMaster's photography, frequently acting as animal companions or guides on her journeys. Cradling a vessel of starlings and crows, McMaster leads the birds to a safe place, championing the need for us to protect or care for our natural surroundings.