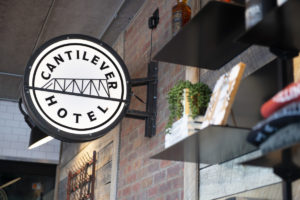 International Falls, Minnesota and the neighboring town of Fort Frances, in Northwest Ontario, are separated by the Canada-U.S. border, but comprise one community, joined by events and celebrations, shared resources, and extended families who live in both jurisdictions.  Residents of both towns travel regularly back and forth across the international border to see movies, go shopping, fish the Rainy River, and visit loved ones and friends.
In January of 2020, a new distillery and boutique hotel opened in the historic town of Ranier, situated just next to International Falls. Named Cantilever, the business takes its name from the single-track cantilevered railroad bridge owned by CN Railway that connects Minnesota and Ontario across the Rainy River. The bridge, built in 1908, is rumoured to have been the top gateway for the smuggling of alcohol into Minneapolis and Chicago during the Prohibition era.  Today, it serves as one of America's busiest commercial ports of entry.
Cantilever Distillery brought its products to market for the first time in March of 2020. Days later, the state of Minnesota limited travel as well as bar and restaurant operations due to the COVID-19 pandemic, severely curtailing the activities of the fledgling distillery and hotel. To further slow the spread of the virus, travel across the international border was soon restricted to essential trips only, decreasing vehicle traffic into Canada by nearly 90%.
Seeing a need, and acknowledging its capacity, Cantilever identified a World Health Organization recipe for hand sanitizer and quickly purchased the necessary ingredients to produce a batch in the distillery. The first 75 gallons were donated to Minnesota's Koochiching County for distribution to care homes, schools, the fire department, police, and health care organizations. As a company with owners, employees, and customers who live on both sides of the border, Cantilever worked closely with the Canada Border Services Agency, U.S. Customs, and Canadian elected officials to receive permission to export, and soon donated a second batch to Riverside Healthcare – La Verendrye Hospital in Fort Frances, Ontario.
The founders and managers of the distillery live and work on both sides of the border, and belong to the Chambers of Commerce in both jurisdictions. One of its products, Woody's Am-Can, is a blended rye whiskey featuring a blended logo – stars from the U.S. flag superimposed on the maple leaf from the Canadian flag – symbolizing the binational blending of families, businesses, and civic life found uniquely in this part of the North American continent.
Related Products