Since the COVID-19 pandemic began, scientists and researchers from across the globe have been working together to study the virus on many fronts, and those in Canada and the U.S. are no exception. Soon after the outbreak, the Canadian Institutes of Health Research began awarding grants totalling over $5 million to joint research projects proposed by Canadian and U.S. institutions. Below, we look at some of the projects, such as the role of psychological factors in the spread of the disease, its affect on children and women, and how testing can be improved. They are all excellent examples of Canada-US collaboration during this unprecedented time in history.
PSYCHOLOGICAL FACTORS
Discrimination against those who have been infected, along with excessive fear and anxiety, have been prevalent in many countries as COVID-19 has spread. Scientists at the University of Saskatchewan in Regina, Baylor University in Waco, Texas and Fordham University in New York City are working on a project which is examining the impact of psychological factors on the pandemic's growth. Their ultimate goal is to develop a 'rapid assessment system' that can be used by authorities to measure the psychological consequences of pandemics in real time, making it easier to slow the spread.
MISINFORMATION
As the pandemic has taken hold throughout the world, misinformation and disinformation about all aspects of the crisis has spread as well, both unintentionally and on purpose. To get a better handle on its effects, researchers at Université Laval in Quebec City and the University of Massachusetts, Amherst are studying how misinformation, spread mainly through online platforms, leads to the mistrust of public institutions. They will use their findings to help public health officials better communicate during pandemics, using techniques that can mitigate the spread of misinformation and increase public trust.
CHILDREN
Compared to adults, how COVID-19 symptoms present in children is not yet well understood. Researchers at the University of Calgary are teaming up with universities across the U.S., as well as the Public Health Agency of Canada and the Centers for Disease Control, for a two-year study of children admitted to hospital with suspected COVID-19 symptoms. Data will be shared among researchers in real-time, with the goal of identifying those children at higher risk and allowing for earlier intervention, saving resources and lives.
GENDER
When a pandemic strikes, women are generally disproportionally affected by the consequences. Scientists at Simon Fraser University in British Columbia and Johns Hopkins University in Maryland are working on a gender analysis of the COVID-19 outbreak, using data from around the world on infection and mortality rates, and conducting interviews and analyzing social media. The main outcome will be a 'Gender Matrix' toolkit which will help inform public health responses and improve decision-making.
TESTING
Rapid, reliable testing has become increasingly important as the number of infections worldwide has grown. Researchers at the University of Toronto and Arizona State University are partnering on a project to use a testing system created during the Zika virus outbreak, and revamping it to instead diagnose COVID-19 cases. Test kits, including a 'lab in a box' kit that can provide diagnostic surge capacity for up to 14,000 tests, for various scenarios would be available for deployment around the world, especially in countries whose health systems are less resilient.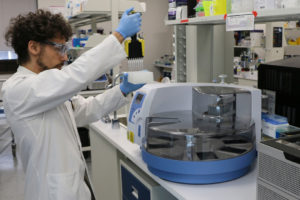 GIFS Lab Manager Marco Pellino working on the KingFisher™ Flex. (Photo: Pierre-Luc Pradier)
Related Posts:
Associated Links: