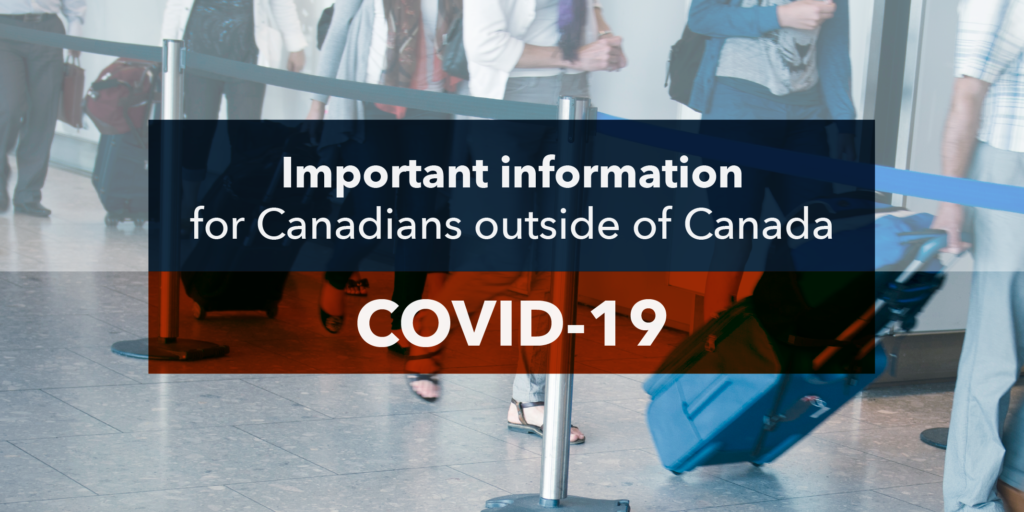 UPDATED – August 6, 2021
BORDER CHANGES
Fully vaccinated foreign nationals may be allowed to enter Canada for discretionary travel on the following dates if they meet specific criteria:
Effective August 9: American citizens and permanent residents of the United States, who currently reside in the United States, who meet specific criteria to qualify as fully vaccinated
September 7 (intended start date): All other foreign nationals who qualify as fully vaccinated
Fully vaccinated travellers will not need to take a post-arrival test unless they have been randomly selected to complete a day 1 COVID-19 molecular test. All travellers who are randomly selected for the border testing surveillance program must complete the mandatory testing requirements. Failure to do so may result in fines. There are no changes to the mandatory testing requirements for unvaccinated travellers.
Vaccinated parents travelling with unvaccinated children
Effective August 9th, unvaccinated children under 12 years of age of fully vaccinated parents and/or guardians will be exempt from quarantine that will allow them to accompany their parents/guardians, provided they  follow enhanced  public health measures.
Unvaccinated children between the ages of 12-17 and dependent children (18+) due to a mental or physical condition are permitted to enter Canada with their fully vaccinated parents and/or guardians, but are subject to the 14-day quarantine.
All unvaccinated children (except those under 5 years of age) will remain subject to the day 1 and day 8 testing requirements. Provinces and territories may have more stringent rules around people who have recently returned from travel.
RETURNING HOME TO CANADA
Fully vaccinated travellers, arriving by land or air, who are eligible to enter Canada and who comply with specific criteria will not be required to quarantine or complete a day-8 test. In addition, fully vaccinated travellers arriving by air will not be required to stay at a government-authorized accommodation (GAA) to await their on-arrival test result.
Who is eligible to enter Canada?
These changes are only applicable to fully vaccinated travellers who are currently eligible to enter Canada. This means those who enter by right (Canadian citizens, permanent residents and persons registered under the Indian Act) as well as foreign nationals who are eligible for entry under the following Orders in Council: Prohibition of Entry into Canada from the United States; Prohibition of Entry into Canada from any Country other than the United States.
Specific criteria for eligible fully vaccinated travellers
To benefit from the reduced public health measures, travellers must:
1)     Be eligible to enter Canada;
2)     Be fully vaccinated: To be considered fully vaccinated, a traveller must have received the full series of a vaccine — or combination of vaccines — accepted by the Government of Canada at least 14 days prior to entering Canada. Currently, those vaccines are manufactured by Pfizer, Moderna, AstraZeneca/COVISHIELD, and Janssen (Johnson & Johnson).
3)     Meet all criteria to be considered for the fully vaccinated traveller exemption such as providing proof of a valid pre-arrival COVID-19 molecular test before boarding a plane or arriving at the land border and, submitting mandatory information including a digital proof of vaccination in English or French in ArriveCAN.
Mandatory submission of information via ArriveCAN
Fully vaccinated travellers must submit their mandatory information including their digital proof of vaccination in English or French using ArriveCAN (either via the App or the Web portal) before arriving at the border. Travellers will be able to upload their proof of vaccination into ArriveCAN in the new version which will be released on July 5th as of 12:01 a.m. EDT. Travellers must use the most up-to-date version released on July 5th in the Google Play Store and the App Store for iPhone. If travellers are unable to enter their information themselves, they can have a friend or family member enter the information for them.
All other restrictions remain in place
There are no changes for travellers who are not fully vaccinated. They are still subject to the mandatory 3-day stay at a GAA (air mode), a 14-day quarantine, all testing requirements (pre-arrival, on arrival/day-1 and day-8) and the mandatory submission of information via ArriveCAN before arriving in Canada.
Get informed and be prepared
Before heading to the border, travellers should inform themselves and fully understand their obligations by ensuring their eligibility to enter Canada and reviewing the COVID-19 vaccinated travellers entering Canada Web page.
Travellers to Canada may experience delays at the border due to the enhanced public health measures. The Canada Border Services Agency (CBSA) will not compromise the health and safety of Canadians for the sake of border wait times. The CBSA thanks travellers for their patience.
INTERNATIONAL STUDENTS
Learning institutions whose COVID-19 readiness plans have been approved by their provincial or territorial government will soon be able to welcome more international students back to their schools. Amended travel restrictions took effect on October 20, allowing international students to enter Canada if their designated learning institution (DLI) has an approved COVID-19 readiness plan in place.
The list of DLIs with an approved COVID-19 readiness plan in place will be posted on IRCC's web page for international students affected by COVID-19 restrictions and updated regularly as provinces and territories identify additional schools.
WHILE IN THE U.S.
The Embassy of Canada and our Consulates are currently operating with very reduced on-site presence in line with U.S. and Canadian government guidance. We are facing high demands for support and advise against visiting in person. If you require consular assistance, please contact us by phone at 1-844-880-6519 or email at [email protected].
For emergency assistance, please contact: 1-800-387-3124 / [email protected]. You can also follow our social media channels (Twitter, Facebook and Instagram) for ongoing guidance and check this page regularly for updates. Please also visit www.travel.gc.ca and register yourselves as Canadian citizens abroad to receive updates from the Embassy.
While in the U.S., you should monitor local media and follow instructions from local authorities. Be sure to use credible sources for information about COVID-19.
Social media accounts to monitor:
Twitter
Facebook
You can also find much reliable, up-to-date information on the following sites:
STAY CONNECTED
Please share this important information with other Canadian citizens in your area. Encourage them to register with ROCA (https://travel.gc.ca/travelling/registration) to enable them to receive important safety updates from the Government of Canada.
Additional resources and information: