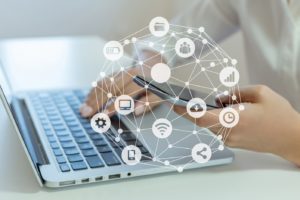 We can't see COVID-19 but we know that social distancing, handwashing, and wearing masks are tangible ways to limit the virus' silent ability to make us sick.  And because we live our lives online, even more so during this pandemic, we need to be even more vigilant and take steps to protect our citizens and cyber systems from bad actors undertaking criminal acts and trolling behind fake websites and emails.  Beyond individual efforts, law enforcement in both Canada and the United States take very seriously threats to our free, open and secure cyberspace.  When it comes to our North American neighborhood, shared information and intelligence every hour of every day is the norm as we pursue and defend against cyber criminals.
Canada's authority on cyber security is the Canadian Centre for Cyber Security (CCCS) made up of hackers, builders, creators, developers, researchers, and scientists who live cyber security every day. In as little as 8 minutes, this Centre shares highly classified intelligence on existing and emerging threats with industry partners so that Canada's financial, energy, health and transportation systems are protected.  That same intelligence is then shared with U.S. critical infrastructure providers.  The security of our North American electric grid — upon which virtually every sector of our shared economy depends – is one of several examples of where Canada and the United States predict and prevent cyber threats by sharing intelligence with each other, often in partnership with the private sector.
At the Federal Bureau of Investigation (FBI) and the National Security Agency (NSA), highly skilled cyber security experts from Canada are working alongside their U.S. counterparts to protect citizens, government networks, the defense industrial base, supply chains, and critical infrastructure in both countries. Successful cybercrime investigations, including criminal activities such as child sexual exploitation, fraud and zoom-bombing, which have shown increases during this pandemic, are often the result of involvement by the Royal Canadian Mounted Police (RCMP) and other Canadian law enforcement agencies in collaboration with their U.S. colleagues.  Like U.S. Cyber Command, Canada's Communications Security Establishment (CSE) also shares similar authorities to safeguard critical defense systems.
As we navigate through this global pandemic, the partnership between Canada and the United States remains strong.  Together we are implementing coordinated measures to protect our citizens.  Recognizing that our critical infrastructure and supply chains cut across our shared border, we are especially mindful of our mutual reliance and how disruptions in one country can have cascading impacts on the other country.  Bad actors never stop, and they see opportunity in challenging times.  Law enforcement officers in Canada and the United States don't stop either and are more vigilant than ever.
Related Products