A leader must be many things, but most importantly he or she must inspire and enable others to accomplish common goals. In space, there is an obvious leader. As a Canadian Space Agency astronaut and serving member of the Royal Canadian Air Force, I work at the Johnson Space Center in lockstep with my American colleagues. My perspective is that the U.S. has always been and continues to be a world leader in space because they do what leaders do: set big goals and enable talented contributors to bring excellence.
Space exploration brings out the best in humanity. We must always keep our eye on the goal of using space to unite. Any human who has gazed back upon our planet from space holds a vibrant passion for a future where all Earth inhabitants work together to create a universally better life.
Unfortunately, geopolitical stresses are a reality of our world today, but the International Space Station (ISS) remains a technical and diplomatic marvel that serves as an example of what is possible. Despite our challenges on the planet, all partners in space have earned mutual respect, and we place our lives in one another's hands.
I sourced my inspiration to explore at an early age from images of Americans standing on the Moon and furthered this motivation to strive for excellence while watching Canadians fly aboard the Space Shuttle. Now, looking backwards from the inside, I see why the U.S.-Canadian space relationship has proven prolific for both our nations. Ever since the U.S. enabled Canada to be the third country to join space-faring nations by launching our Alouette-I satellite in 1962, we have built a partnership based on merging our best innovation for mutual benefit.
The U.S. led the world with the Apollo program. That incredible goal, for all humankind, served as a rallying call for many Canadians to make important contributions to the program and fuelled innovation in both of our countries. The U.S. inspired greatness, once again, with the Space Shuttle, which gave us the opportunity to invent space robotics – a Canadarm legacy that serves us daily aboard the ISS – and now leads us to a third generation of Canadian space robotic technology as we join NASA in establishing the Lunar Gateway.
Today, the U.S.-Canadian partnership in space continues to leverage our successes. We don't compete in space; we have found niche specialties that drive innovation and commerce in our respective countries and yet weave together to provide a shared capability serving our citizens. From communication, Earth observation, science, space situational awareness to the security of North America, we are setting an example of what is possible through cooperation.
Space is changing rapidly. The challenges are immense, not only from an exploration point of view as we set out towards the Moon, but also from a geopolitical and security standpoint. If we are to leverage the soft power that space offers to lead the world with our example of exceptional cooperation, we must be out front, and we must be there together.
The U.S.-Canada space relationship is unique and powerful. It sets an important example on the world stage. Leaders must continue to enable our respective space industries to innovate and create jobs of the future for our citizens. Just as important, we must elevate space to our highest-level diplomatic conversations as it becomes a more strategic domain across the globe. U.S. space leadership has brought us to a place where we complement one another. Together, we stand to accomplish the incredible, both technically and diplomatically, by leveraging space cooperation and leading the world for the benefit of all.
Col. Jeremy Hansen, Canadian Space Agency Astronaut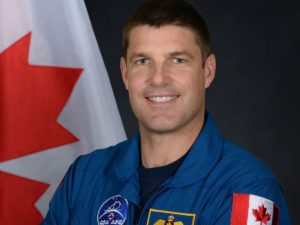 Related Products