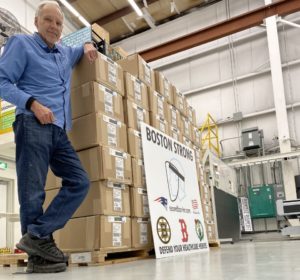 It's often said that necessity is the mother of invention. Living through a global pandemic brings new meaning to this time-honored truth, and few express it better than Brad Hertz, co-owner of Sleek Signs in Regina, Saskatchewan.
When COVID-19 hit, Hertz reconfigured his company's signage and production facilities to manufacture innovative protective plastic shields for essential workers. With Amazon showing sold-out masks and lengthy restocking times, he paced his kitchen floor pondering alternative design ideas. "My wife thought I was crazy," he said of that time. But after long hours of deconstructing and "un-engineering" the product, he hit upon a jackpot idea: shields made of re-useable polycarbonate instead of single-use foam, elastic, glue, and stapled models. With his team helping with all aspects of design and production, research, development, and licensing ensued. A new online ordering company, Second Barrier Face Shields was launched. And in the weeks that followed, this small town signage company sold thousands of face shields to hospitals, dentists, grocery store workers, and poultry processing facilities – and to the City of Boston.
How did this overnight success story happen? How could a small signage company suddenly find itself selling tens of thousands of dollars' worth of polycarbonate protective face shields, including to Boston?
The answer lies in Canada's national sport – hockey. Brad Hertz recounts how he started playing the game at the age of five with a player who would become a lifelong high school friend. That friend went on to play with the Boston Bruins, who told the Mayor of Boston's office about his Saskatchewan friend's innovative mask. The rest is history – the city has purchased a total of 9,000 masks to date.
But it also took one man's entrepreneurial vision and sheer will to make all of this happen. Someone who looked at his company's state-of-the-art cutting machine for decals and billboards and signs and thought … this could work. With a re-imagined design clearly in mind, all he needed was the raw material – and in polycarbonate he found the perfect re-useable, easily disinfected, Canada and U.S.-sourced input.
With only four known U.S. manufacturers of polycarbonate on his radar, Hertz embarked on another critical step, creating jobs for university students at the same time. A small team of five identified and contacted manufacturers and distributors of the product, creating a rolling spreadsheet of reputable North American sources that could be accessed on an ongoing basis for this needed input.
Two more astonishing details tell the story of who this self-described small-town Saskatchewan boy is at heart. As his company pivoted to manufacture the new protective masks he'd designed, Brad Hertz pulled his family motorhome up to the facility so that he could save his commuting time when production lines got rolling 24/7. He thought about applying for a patent and noted the emergence of a few copycat companies. But then, in his own words, he thought "that would not be right" in the middle of a global pandemic. Let whoever could help, do so.
Brad Hertz is a cancer survivor. A man of many achievements, his Second Barrier Face Shields are now protecting and saving lives in Boston, Massachusetts and beyond. A visionary, innovative response to the acute need for protective face shields may indeed have been born of necessity. Canada's deep friendship and people-to-people connections with the U.S. may have helped pave the way. But two Saskatchewan boys who grew up playing hockey together would one day see it all come together in the unforgettable year of 2020. Thanks to one man's ingenuity and hockey, the fruits of this friendship just keep on giving on both sides of the border.
Brad Hertz recently graduated from Boston University's online program in Applied Business Analytics, marking his third Master's Degree – just another Boston connection for this selfless Canadian innovator.
Related Products