About this Recipe
This recipe is made using fresh corn purée as the base. The purée, when made using local fresh corn, is sweet and reminiscent of warm Ontario summers! Recipe from Embassy Chef de Cuisine, Laetitia Chrapchynski.
Servings: 4 bowls | Prep: 30 minutes | Cook time: 45 minutes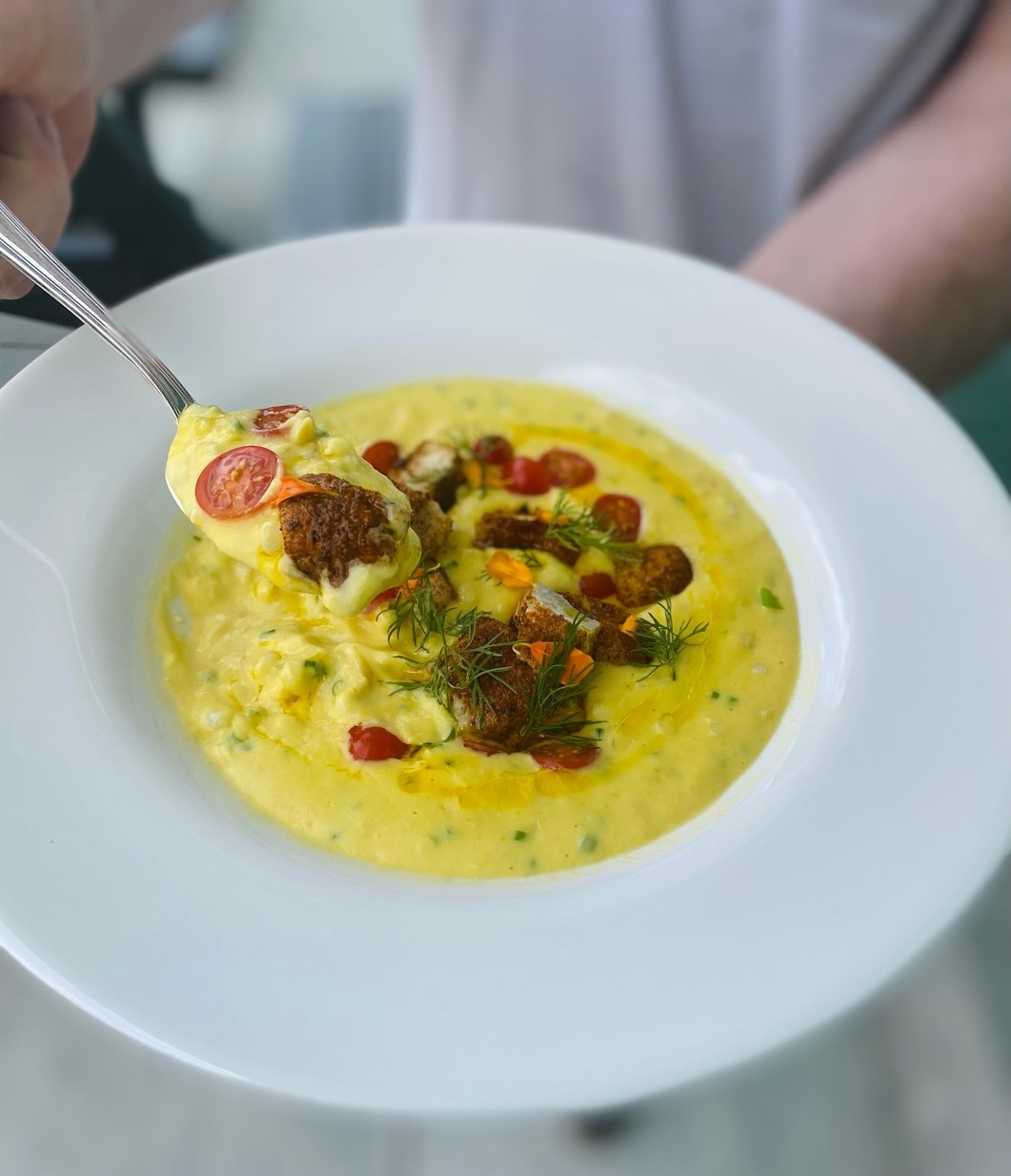 Ingredients
Soup Base
5 corn ears
2 stalks celery, diced
1 onion, diced
2 large potatoes, peeled and cubed
2 cloves garlic, minced
2 tbsp. canola oil
½ cup heavy cream
2 cups vegetable stock
1 bay leaf
1 tsp salt
Soup Garnishes
1 16oz piece of halibut or white fish of choice, cut into 1"cubes
½ tsp each of smoked paprika, ground fennel & toasted ground cumin
Salt and pepper
1 tbsp. neutral oil
1 cup fresh cherry tomatoes, halved
1 small jalapeno, minced
5 sprigs fresh cilantro, chopped
2 sprigs dill, chopped
½ cup fresh corn, sautéed
1 lime, zested and squeezed
Method
In a large soup pot, over medium heat, sauté the onion, celery, garlic, corn, and salt in oil lightly. Once the onions are translucent, add the vegetable stock, the heavy cream, and the bay leaf. Allow to simmer for 45 minutes.
Meanwhile, cube the fresh halibut and season with oil, spices, salt, and pepper. Allow the halibut to marinate for 15 minutes.
Once the soup is cooked, transfer the content to a blender and purée until smooth. Fold the soup with fresh cherry tomatoes, jalapeño, cilantro, dill, and lime zest & juice.
When ready to serve, heat up a cast iron pan, and quickly sear the halibut pieces making sure to not overcook the fish. About 1 minute per side.
To serve, ladle hot soup in bowl and top with seared halibut pieces, and cilantro sprigs.
Related Posts