Millions of bison once ranged across the continent from Alaska to Mexico. They were an important resource for Indigenous peoples and were symbolic of life on the plains. But at the turn of the 20th century, North America's largest land mammal was on the brink of extinction. Some subspecies, like the wood bison, were thought to be completely extinct. Against all odds, in 1958, a small isolated wood bison population was discovered in Canada's Wood Buffalo National Park. In 1965, 22 of these wood bison were translocated to Elk Island National Park. The Park has since become a breeding ground for bison to help repopulate this iconic animal on its ancestral land. Elk Island National Park has now translocated nearly 3,000 plains and wood bison to various partners in bison conservation, including Indigenous groups and partners in the U.S.
The very latest of these exchanges took place in April 2022, when 40 wood bison from Elk Island National Park were safely translocated to the State of Alaska to start a new herd. This is the second time wood bison have journeyed from Elk Island National Park to Alaska, with the first 53 arriving in 2008. There are an estimated 100 wood bison now living in Alaska, with 40 new neighbours settling in and new arrivals planned for 2024, 2026 and 2028.
Projects like these help ensure the global survival of bison by securing populations in separate geographical locations. Elk Island National Park is the only completely fenced national park in Canada, which means bison here have few natural predators and can grow steadily. Bison herds grow approximately 20% to 25% every year, which means their populations can continue to thrive in natural habitats once they arrive in their forever home.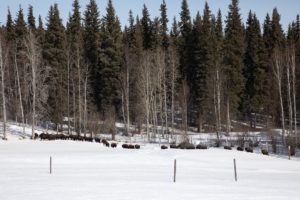 Related Products