Major-General Paul Ormsby recently completed his assignment as the Canadian Defence Attaché at the Embassy of Canada after nearly three years in the position and 38 years of service in the Canadian Armed Forces. Prior to his retirement, we were able to obtain some of his perspectives from his time in the CDA position.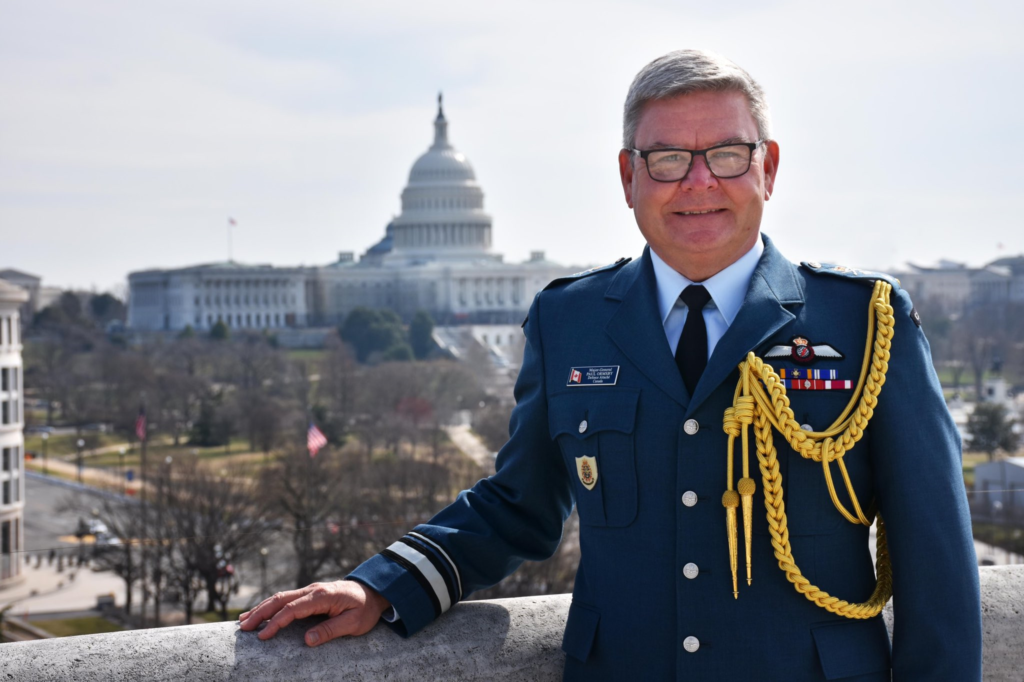 To start, could you tell us some of your past work experiences that helped prepare you as the Defence Attaché at Canada's largest Embassy?
MGen Paul Ormsby: I was fortunate enough to have been posted to the United States on three previous occasions.  These were at US Central Command where I worked as a Deputy Director in the J5 Plans and Strategy Division, in the Pentagon where I was the liaison officer between the US Chairman of the Joint Chiefs of Staff and Canada's Chief of Defence Staff, and then as the Deputy Commander for the NORAD's Continental United States Region.  These positions were at the ranks of Colonel and higher, so I had a pretty good exposure to how the senior levels of the Department of Defense worked.  Each of these tours built on the other in this regard.  When I arrived as the Attaché, I still had a lot to learn, but I felt quite comfortable.
I can also tell you that many of the US personnel I met on those early tours I met once again on these later tours.  They themselves were in more senior positions as well, so that was great because we had established a professional trust years earlier, which meant where we left off was very easy.
 Knowing that there is no such thing as a "typical day" for a Defence Attaché, what were some of your key reoccurring roles in the position?
My primary job was always to be the Defence and Security Advisor to our Ambassador, Kirsten Hillman.  I began my day by reviewing what was happening in the world, reading intelligence reports and talking to my staff about issues.  If I felt there were things to pass to the Ambassador and provide context and advice, I would make contact with her.  This was always the number one thing in my mind.
I spent a lot of time on engagement, which is different than diplomacy.  Engagement is that process of meeting people, establishing trust with people and developing networks that you can use when you need the help of friends and allies.  We accomplished most engagement through social activities such as official events and receptions and many private dinners in our home.  This of course, was suspended during COVID pretty much, so we did as much as we could via teleconference.
The other portion of a typical day was working with our US colleagues on real issues.  During my time this included everything from the US decision to withdraw from the Open Skies treaty to promoting Canadian defence companies to the wars in Syria, Afghanistan and Ukraine.
During your time here, what were the main re-occurring Canadian defence topics of discussion with your U.S counterparts, or the main files in your inbox?
 The main topic of interest by the US in Canada in terms of defence was our level of spending on defence.  Another topic of great interest is the plan to modernize NORAD.  This is something both nations recognize as key, especially now after the Russian invasion of Ukraine.  These will be hot topics for the next several years.  I would also say that US interest in the Arctic has increased dramatically as well.  This is because of the growing American view of security from a truly global perspective, where the Arctic is seen as key space in which to have oversight, along with Canada and the other Arctic Allies.
 For the world's trouble spots like Ukraine, what has Canada been doing to improve these situations from a defence perspective?
Any credit for the response to the ongoing invasion of Ukraine belongs with Ukrainians. They have shown the world their bravery and discipline in defending their homeland, which comes as no surprise to the Canadian Armed Forces members who worked with them from 2015 to earlier this year as part of Canada's Operation UNIFIER.
Over the course of this mission, our members have provided a wide range of military training to more than 33,000 candidates from the security forces of Ukraine. These types of training missions, which we also conduct in the Caribbean, Iraq, Jordan, and Lebanon, not only help enhance the extant capabilities of our partners' security forces, but are also mutually beneficial. The Canadians who have deployed to Ukraine over the past few years will tell you they've learned a great deal from their Ukrainian colleagues.
While members deployed on Operation UNIFIER are currently temporarily located in Poland, our government recently announced the extension of the mission until the end of March 2025 and expansion by adding 60 troops with the ability to increase the total number to 400 personnel. Additionally, our members will work to enhance intelligence cooperation and cyber security and operations in support of Ukraine, which are critical capabilities in any conflict in the 21st century. Finally, the aircrews of two of our CC-130J Hercules aircraft have been busy delivering more than one million pounds of military aid to Ukraine since early March.
For new Defence Attachés being transferred into their respective positions around the globe this year, what advice could you offer them? 
First of all, I would recommend they visit the embassy of the nation they are headed to, in Ottawa.  Spend a lot of time understanding the history and culture.  This underpins everything in terms of national consciousness and how nations approach their decision making.
Secondly, make contact as soon as you arrive with as many senior decision-makers as you can.  Get office calls with senior military leaders as soon as you can.  Equally important, get office calls with senior civilian decision-makers.  Who is in charge of Policy, Strategy, Logistics, IT, R&D?  An attaché needs to know these people and must have the ability to contact them directly when needed.  This will take a large investment of time but that is why the attaché is there.  Spend every penny you have been given in your hospitality budget.  This is the engagement process that will make the diplomatic process much easier later.
Travel around the country.  Vacation there, visit the different regions and towns and find out what people really think there, compared to what is happening in their national capitals.  This is as important as anything you will do in the capital.  This is the true tenor of national mood.
One of the complaints many attachés have is the lack of messaging they get from home.  What is our narrative?  What is our position on this issue or that issue?  I always had a set of talking points that were up to date, taken from speeches from our leaders that I could raise in official and social conversations.  I would often say to US congressional staff something like, "Did you know that in your home state there are 37 Canadian-owned businesses that employ 9,000 people, and six of these businesses are defence-related?" The majority of the time they would have no idea.  We also had a routine at our weekly meetings where we would have the "Story of the Week", about some Canadian Armed Forces–US interaction, that we could all use when we met our US colleagues.   So, my advice is to be up on everything that is happening with the CAF, how it affects your host country, and find ways to bring it into the conversations.  Canada may be a middle power but it is a global player. This is the story that we need to tell about ourselves.
Finally, I think you need to figure out what kind of Canadian you want to be there.  What is the image you want to portray?  Everyone already associates Canada with hockey, so I always tried to make sure this hand wasn't overplayed.  Otherwise, we would just be 'the hockey guys'.  There is so much more to our national culture; it is rich, varied, and interesting everyone and you will find that many people long to visit Canada.  Take advantage of that. Just for the record, I love hockey, so if anyone did raise it, I was happy to engage.  I just wanted people to think of us in many, varied ways, beyond the Canadian stereotype!
Since MGen Ormsby's retirement, Captain (Navy) Bill Quinn, has taken on the role of Acting Canadian Defence Attaché. A permanent successor is expected in the mid-summer of 2022.
Related Products
Associated Links
Follow Canadian Defence in the U.S. on Twitter @CAFinUS