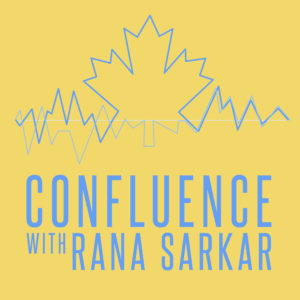 The Consulate General of Canada in San Francisco has launched Confluence, a new podcast on the relationship between technology and diplomacy on a global scale, hosted by Consul General Rana Sarkar. As Canada's Tech Envoy in Silicon Valley, Consul General Sarkar has his finger on the pulse of some of the biggest tech issues facing our societies like content moderation, mitigating online harms, data privacy, the rise of digital authoritarianism, and the future of work. In each episode, listeners can tune in for sharp conversations with the policy makers, thinkers and tech leaders shaping the future of technology policy worldwide.
Canada has always been a leader in innovation policy and human rights. Working at the intersections of big tech, public policy and change, Sarkar brings a unique perspective to these conversations and offers a rare glimpse into the inner workings of the global technological revolutions happening all around us. Confluence offers a look at these issues from a Canadian point of view, creating a space for international collaboration rooted in the pursuit of human rights. In the wake of global pandemic, economic recovery, radical technological development, and a business landscape unlike any before, the time for these urgent conversations is now.
Guests on Confluence will include former U.S. Ambassador Eileen Donahoe, now at the Stanford Cyber Policy Center's Global Digital Policy Incubator, and Aza Raskin, co-founder of the Center for Humane Technology, who tackle issues like digital authoritarianism and addictive dopamine-dealing algorithms. Diplomats on the frontlines of conversations about technology and human rights, like Anne Marie Engtoft Larsen, Tech Ambassador of Denmark, and Peggy Hicks, Director of the Office of the UN High Commissioner for Human Rights, also join the conversation to discuss how policymakers have been approaching tech policy on issues like data rights and surveillance. We'll also hear from Canadian business leaders in Silicon Valley, like Cloudflare co-founder, President, and COO Michelle Zatlyn, and C100 leaders Laura Buhler and Chris Albinson who have brought fresh Canadian perspectives to the frontlines of business, economic development, and innovation.
We've got a lot to talk about—come and meet us at the Confluence. Episodes are available now wherever you listen to Podcasts: https://linktr.ee/confluencepodcast