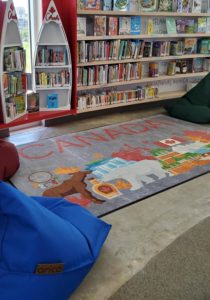 In the midst of a pandemic, the Dallas Public Library forged ahead with the opening of a new branch library, writing a new chapter in the community with a contribution from Canada.
Located in Vickery Meadow, once an unincorporated town centered on a rural feed store for livestock and now the most densely populated neighborhood in Dallas, the new 18,000-square-foot Vickery Park Branch of the Dallas Public Library is open for business. Vickery Park is now providing books, career services, computer access, and plenty of reading spaces for community members of all ages. One such space is the "Canada Corner" in the children's section of the library.
The "Canada Corner" was organized and supported by the Consulate General of Canada in Dallas. Complete with made in Canada Arico beanbag chairs and a Canada-themed rug, the cozy retreat provides a space for young readers to engage with a variety of books by Canadian authors. The books housed within the section's canoe-shaped shelves have been thoughtfully curated to engage readers and to reflect the neighborhood's diversity.
Vickery Park Branch serves as a vibrant cultural and educational hub for an incredibly diverse community. The area is home to speakers of 56 different languages, a testament to the number of individuals and families who have come from all over the world to find a home in the Dallas/Fort Worth area.  According to Dallas City Council member Jennifer Staubach Gates: "The long-anticipated Vickery Park Branch will be a natural gathering place for this community." In an area that offers a wide range of opportunities for outreach, Vickery Park Branch Library acts as a hub of education and collaboration: a testament to the strength of its global community.
Providing a space to read both English and French books by Canadian authors, the "Canada Corner" is an example of the depth and breadth of Canada's partnership with the United States, from North American Aerospace Defense Command (NORAD)'s defense of the skies above North America to a quiet library corner. The Dallas Public Library now boasts Canada Corners at three branches, Vickery Park, Skyline, and Highland Hills, welcoming readers from around the world.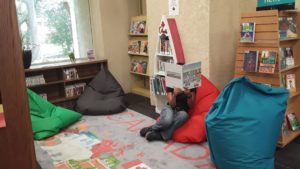 Related Products