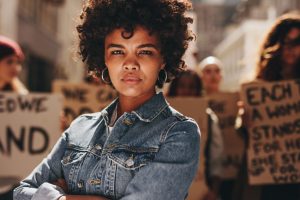 The Black Lives Matter movement has given rise to global conversations on how systems with built in racial inequality continue to affect the lives of people of African descent worldwide. In Silicon Valley, tech companies continue to struggle to make their workforces more diverse and develop products that serve all. One of the lessons of the recent past is we cannot look away from urgent, authentic conversations about race and the hard work in shifting structures.
Recently, Rana Sarkar, Canadian Consul General in San Francisco/Silicon Valley, sat down with Dr. Debra Thompson, Associate Professor and Canada Research Chair in Racial Inequality in Democratic Societies at McGill University, for an important conversation on race, place, and belonging in Canada and the United States. The program was produced in partnership with Fulbright Canada.  In their discussion, they drew from their personal experiences living and working in both Canada and the U.S., and highlighted similarities and differences between the Black experiences in both countries. They discussed the Canadian historical context, the role of democratic institutions, and Canada's multicultural identity, among other subjects.
The conversation also came at a time when issues of diversity and anti-racism are priorities for the highest levels of government in Canada and the U.S. apriority for both of our governments. At the conclusion of their virtual bilateral meeting in February, Prime Minister Trudeau and President Biden announced a new Roadmap for a Renewed U.S.-Canada Partnership, in which they pledged to work together to tackle racism and discrimination. They also agreed to collaborate to implement more effective approaches to community safety, criminal justice, and law enforcement.
CG Sarkar's interview with Dr. Thompson was part of the Consulate's efforts to inform conversations on diversity, equity, and inclusion. As Consul General Sarkar noted: "Canada's diversity makes us richer in every sense, but it requires hard work to build inclusive policies and foster inclusive public attitudes."  A full recording of the program is available here.
Related Products:
Associated Links: