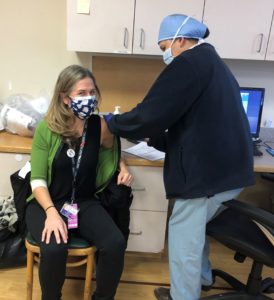 When the pandemic descended on New York last spring, Canadian doctor Leslie Bottrell found herself in the epicenter of the epicenter— an ICU unit at a hospital in Westchester County, New York, one of the country's first major COVID-19 hotspots.
She experienced what so many healthcare workers continue to confront ten months later— a deluge of patients, profound fatigue, and the agony of FaceTime farewells.
As a doctor working in critical care, she was closest to the worst consequences of the pandemic. She recalls a day where every single patient in the unit was lost. She talks about the power of teamwork and how her colleagues were forced to work at the edge of their limits, taking on tasks that fell way outside their job description. She speaks affectionately of the echocardiogram technician, or "the Undertaker", as she called him, who in addition to his regular job, would also transport bodies to the morgue.
"There will definitely be stuff we will need to work through when this is over. There are names burned into my brain that I will never forget."
As the number of cases and hospitalizations decreased over the summer, and as the nightly cheering for healthcare workers petered out, Dr. Bottrell graduated into her third and final year of residency, providing her a much needed reprieve from the ICU unit.
It also provided her with a few weeks off to reunite with her two sons, ages 11 and 12, who had been with her parents in Canada since the onset of the pandemic. Like so many of her fellow colleagues working on the frontlines, she experienced a sudden clash between her duty of care and her duty to family, leading to the difficult decision of being away from her own children.
"We thought they would be there for a month", she said. "It ended up being five."
With her kids back in New York, and as new cases started to creep back up after summer, Dr. Bottrell and her colleagues did enter the second wave with a better understanding of the virus. But the traumas of the spring remain raw, and there is still a lot of mystery around COVID-19.
"The pandemic really reinforced that medicine is a lifelong learning endeavor. Nobody ever has all the answers." And despite the arrival of the much anticipated COVID-19 vaccine— which she received in mid-December— the hospital is still bracing itself for a bigger influx over the next several weeks. "We're not relaxing just yet," she says nervously.
The pandemic also reinforced Dr. Bottrell's love and admiration for her adoptive New York City. Just like her colleagues at the hospital, she saw New Yorkers come together in unprecedented ways. And while the city is no stranger to adversity, this crisis is differen— in many ways a complete contrast to the aftermath of 9/11, the last horrific tragedy to have defined New York. Shutdowns and social distancing are the opposite of what New Yorkers are known for when it comes to overcoming hardship.
Despite the challenges, the city has tried its best to cling to cherished traditions— and Dr. Bottrell got to experience that in the most 2020 way possible. She was called on to do COVID testing for the talent for the crowdless Thanksgiving Macy's Day Parade, which happened to include one of her favorite bands, the Goo Goo Dolls. And while the opportunity resulted in more work for her, she was happy to be part of something that means so much to New Yorkers.
Let's just hope that the next New York City parade she attends will be one thrown in honor of the brave and selfless healthcare heroes, whose sacrifice may never be truly understood.
Related Products