The Smithsonian's National Museum of the American Indian (NMAI) is one the world's largest collections of Native art and artifacts. The NMAI aims to educate visitors about Native cultures — past and present — through its exhibits on display in Washington, D.C., New York City and Suitland, Maryland.  With approximately 266,000 catalog records spanning over 12,000 years of history, current holdings represent all major culture areas of the Western Hemisphere.
You will find several Indigenous peoples from Canada represented throughout the museums, including clothing from the Innu in Newfoundland and Labrador, intricately beaded children's moccasins made by the Lakota and the East or Woods Cree in Manitoba, a handmade doll from the Ojibwe in Ontario, a collection of carved Haida goat horn spoons, and Arctic art and sculptures by renowned Cape Dorset Inuit artists.
In Washington, D.C. an impressive collection of canoes and kayaks catches your eye immediately upon entering the museum, honoring the importance of these watercraft to Indigenous peoples. Built in 2003 by Levi Illuitok and Thomas Kayitok using yellow cedar and nylon from British Columbia, the central Arctic kayak on display blends traditional techniques with modern touches.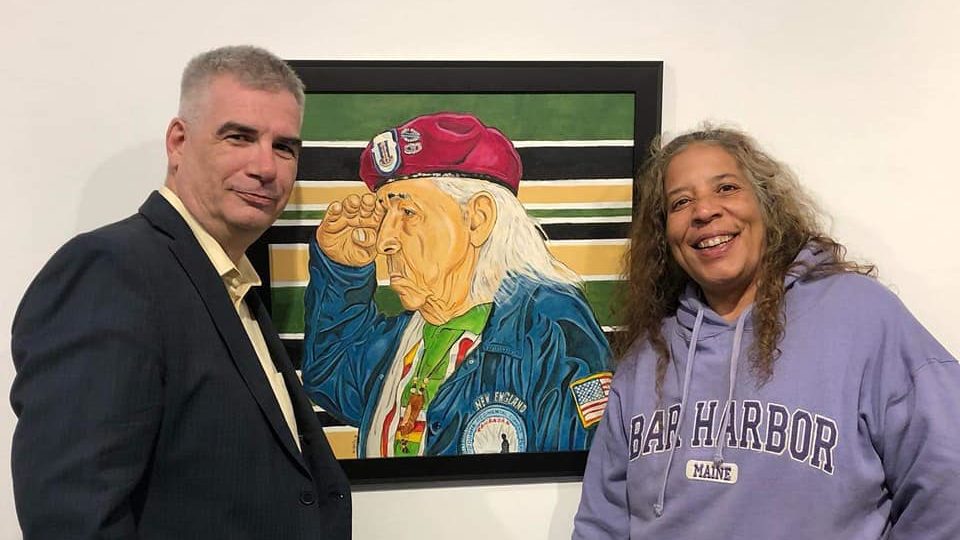 The latest piece of Indigenous art from Canada to become part of the NMAI's permanent collection. is "Veteran Elder" by Nelson White, a Mi'kmaw artist from Newfoundland and Labrador. The painting depicts Ellsworth Oakley, a Wampanoag Elder and American veteran of the Korean War, in a reverent salute. Originally from Massachusetts, Oakley now calls Nova Scotia home. Artwork like "Veteran Elder" fits well as NMAI expands its collection and continues the important work of documenting Indigenous peoples' lives and perspectives.
Taking in Indigenous art, and learning about its history and cultural significance, is a great way to celebrate the diversity of First Nations, Inuit, and Métis people. We're proud to see so many pieces of Indigenous art from Canada showcased at exhibits and as part of permanent collections in institutions across the U.S.
At this time, museums remain closed, but the NMAI  will host a virtual event Wednesday, November 11, 2020, to mark the completion of the National Native American Veterans Memorial. The event will also acknowledge the service and sacrifice of Native veterans and their families. More information about the virtual event is forthcoming (https://americanindian.si.edu/nnavm/).
Related Products
Associated Links