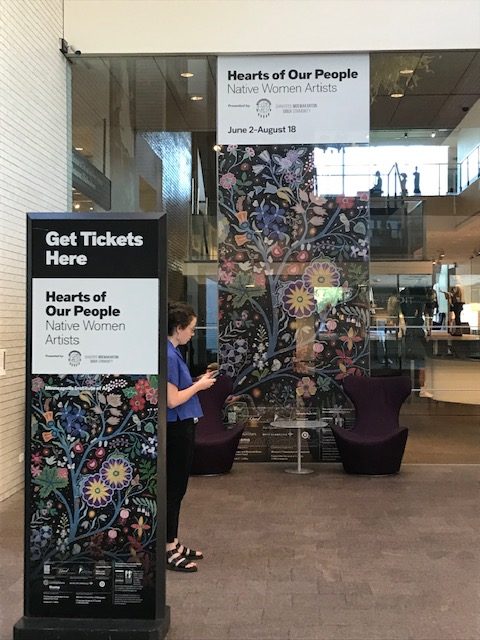 Earlier this summer, the Minneapolis Institute of Arts (Mia), launched an innovative exhibition celebrating Indigenous art made by women from across North America. The collection includes art made in a variety of media over the last 1,000 years, and is the first exhibition to highlight Native women artists from prehistory to present. The Consulate General of Canada in Minneapolis provided support to Mia to ensure that Canadians who were involved in the advisory group or whose artwork is featured could participate in events surrounding the exhibition. This included Michif visual artist Christi Belcourt, whose work The Wisdom of the Universe, on loan from The Art Gallery of Ontario, is featured prominently in exhibition branding.
Chief curator Jill Alberg Yohe, explained the importance of the exhibit "Native women's contributions to the art world have largely gone unrecognized by outsiders, despite the fact that women are responsible for most of the Native artwork in collections; Hearts of Our People seeks to expose this injustice." Exhibits like "Hearts of our People" contribute to a greater understanding of Indigenous Canadian cultures. Our consulates general across the U.S. are prioritizing sharing these stories and artwork to shine a light on the diversity of the Canadian experience and to build connections within Indigenous communities.
Due to its ground-breaking nature, the exhibition has received wide-ranging media coverage far beyond the Midwest, from Vogue to the New York Times to The Guardian.
The exhibition began on June 2 and will run through August 18, 2019 at Mia. "Hearts of Our People" will travel to the Frist Museum in Nashville September 27, 2019 – January 12, 2020, to the Renwick Gallery of the Smithsonian American Art Museum, Washington, D.C. February 21, 2020 – May 17, 2020, and to the Philbrook Museum of Art, Tulsa June 28, 2020 – September 20, 2020.
Related Posts: