What sort of policy activity includes combating invasive species by eating them, celebrating clean water by drinking beer and wine made from it, and doing it all with over 200 other friends, partners, and allies? The Embassy's annual celebration of Great Lakes Days would be the right answer.
Every spring, while snow and cold weather remain around the Great Lakes, advocates come from both sides of the border to advocate and support continued conservation and restoration efforts in the Great Lakes region. The annual program of meetings and discussions includes individuals across the spectrum: environmental advocates, recreational groups, maritime industry, Chambers of Commerce, federal/indigenous/state/provincial/municipal governments, binational organizations, academics, and private industry, all collectively sounding the call for conservation, protection, and restoration of the region.
Issues of mutual concern include invasive species, like Asian carp. Canada and the U.S. collaborate to detect and remove grass carp from Lake Erie, and work together on technology to keep silver and bighead Asian carp species away from Chicago and Lake Michigan. To highlight those issues, and contribute to the cause, participants gladly took part in helping "eat the problem" in 2019.
All participants celebrate the role of water in the region, whether through its economic benefits of efficient maritime transportation or water technology, its provision of drinking water to over 40 million people, or its use in recreation like fishing, boating, or even cold-weather surfing! As referenced, Canada and the U.S. have collaborated through the 1972 Great Lakes Water Quality Agreement to address water quality challenges and clean up legacy polluted areas. The Embassy annually "highlights" these efforts and their successes by featuring brews and wines from across the region's two provinces and eight states.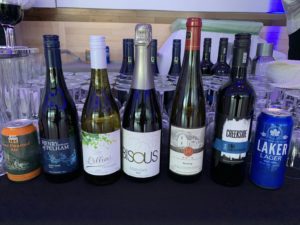 In 2020 the event continued to highlight the cross-boundary work, with Canada's Minister of Transport, Marc Garneau, one of the few who has seen the Great Lakes from space, where those boundaries disappear. Minister Garneau leads efforts across the border on maritime transportation, which supports the world's third-largest economy ($6 trillion, if the region were a country), as well as protecting the region from invasive species in vessels' ballast water. Since 2006, policies on both sides of the border have required the exchange and flushing of ballast water, leading to no known invasions via ships' ballast in the Great Lakes since that time. These results indicate that moving forward with environmentally protective solutions can be done while continuing to grow a resilient economy.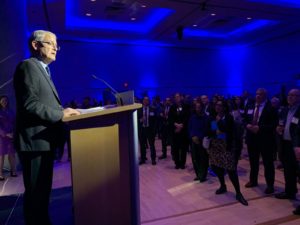 The bottom line is that the annual event promotes and celebrates the many collaborations that must occur across the border for conservation efforts by either country to be successful. The Great Lakes require Canada and U.S. cooperation to sustain our economy, our environment, and our shared quality of life.
Related Products