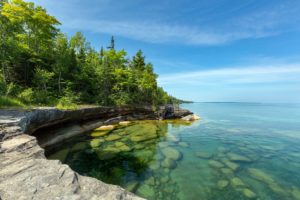 Last week, Transport Minister Marc Garneau and Detroit Consul General Joe Comartin participated in the Great Lakes Economic Forum in Cleveland, OH, sponsored by the Council of the Great Lakes Region.
Minister Garneau told the crowd the region will benefit from the removal of tariffs on Canadian steel and aluminum and the ratification of the USMCA. He explained this is because "The Great Lakes region exemplifies the close commercial relationship between Canada and the United States."
So why is this region so important? First and foremost, 105 million people on both sides of the border share a $6 trillion regional economy. The region accounts for nearly 30% of combined U.S. and Canadian economic activity and supports 46 million jobs. The shipping industry alone supports 78,000 jobs in the area.
The regional economy is completely integrated on both sides of the border. Trade between Canada and Great Lakes states accounts for roughly half of total Canada-U.S. bilateral trade. Nearly 30% of the region's exports head to Canada – making Canada a top customer. What's more, steel and aluminum production and consumption make up a big part of our commerce. This means, as Minister Garneau told NPR, tariffs on steel and aluminum disrupt these long-standing supply chains and limit prosperity for Canadians and Americans alike.
Recognizing the importance of the region to our economics, Canada is also taking steps to conserve our shared waterways to preserve important industries. For example, we are proposing ways to protect against invasive species that cost commercial and recreational fisheries – a $7 billion industry – millions each year. We are also investing billions through the Great Lakes Protection Initiative, the Canadian Agricultural Partnership, the Pan-Canadian Framework, and the Nature Legacy to protect the region's natural beauty, improve infrastructure, and contribute to sustainable agriculture and fishing.
Related Posts:
Additional Links: