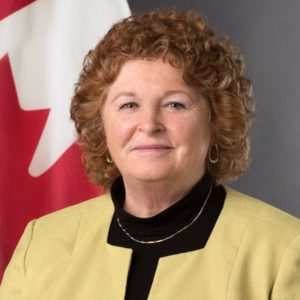 Before I came to Florida as Consul General in 2016, I thought of it as beaches and palm trees. Like many Canadians (3.5 million visits last year), I had visited Florida and appreciated the warmth and sun, but hadn't really thought more about it.
Well, I certainly have changed my mind. As the mother of two Latino children, I was pleased to learn that Miami was actually in Latin America and the Caribbean. While most of my work is in English, my Spanish from my previous postings in Argentina and Uruguay comes in handy in this incredibly multinational city – as does my French, not just with many francophone Canadian Snowbirds, but also with other francophones, including members of the large Haitian community. In fact, I've had the opportunity to talk to Americans and others in all three languages about the reasons why the new NAFTA is in the interest of all three countries!
Our consulate has been increasingly encouraging Canadian companies to see Miami as the "Gateway to Latin America and the Caribbean" — a base to diversify their business throughout the LAC region, as do many companies from the U.S. and from the LAC region itself. Even for a southern U.S. city, not just the size but the sheer diversity of the Latino and Caribbean communities is impressive. Add these communities to the active organizations across Florida, representing the Jewish communities (which include many Latin Americans), the Muslim communities, the African American communities, the LGBTI communities, the indigenous communities (have you seen the Seminole Hard Rock Guitar Hotel?) and the foreign communities as well, you see that greater Miami is a city whose diversity gives it much in common with our large Canadian cities.
Personally, I have also been glad to have had many opportunities as Canada's Consul General to participate in a number of women's activities and conferences, to help connect our women entrepreneurs to their local counterparts, and on occasion, to explain to students how I ended up in trade and in the foreign service, and manage to balance (most of the time!) that with my life as a single mother.
And in a multicultural context like Miami, coming from multicultural Canada, I must admit that I am proud of the diversity inside our office as well. Not only are our staff motivated, professional and collegial — they are Jamaican, Haitian, Cuban, Chilean, Colombian, Peruvian, Hungarian, Kenyan, and Irish, as well as anglophone and francophone Canadian (and oh yes, some are American, too). Makes for a great annual "empanada challenge" (Jamaican and Haitian meat patties included), when we raise money for our annual charitable campaign! All this to say, I have many opportunities to talk about diversity and inclusion in Florida, because it's as important a discussion here as it is at home.
I have also been impressed to learn how important the Canadian footprint is, all across Florida. In fact, whenever and wherever I meet people in Florida, they inevitably tell me that they have Canadians living near them – at least during Snowbird season! At the same time, I sometimes joke that Canadians pass "invisibly" around Florida – because whatever you think an American looks like, we have Canadians who look like that too. (It's just not the Americans who are in the ocean in January.)
We also have a solid security and defence footprint. Americans are publicly appreciative of their military service members and first responders. That means they also appreciate knowing that we have customs and law-enforcement officers in our consulate. And that almost 10% of the Canadian Armed Forces stationed in the U.S. are in Florida, scattered through several key bases, from east to west and north to south, working with Americans on our joint North American defence (NORAD), as well as regionally and globally.
I learned from the Florida Chamber of Commerce that, like Canada, one in five jobs in Florida depends on trade (and it's one of the "big four" states now, in population and economy), which is why we have had much in common during the ongoing trade issues. I also learned that, while Canada is in Florida's top three trading partners, and top two international investors, if we add those numbers to our tourism numbers, and look at the full international business picture, we are Florida's most important international economic partner. Add that to the fact that Canadians buy billions of dollars of residential real estate annually, and you know why, once I present these facts to Florida contacts, we have a very good discussion.
Given that we also are both very interested in energy (especially renewables in Florida), clean technologies, agriculture (even in this sector we have Canada-U.S./NAFTA supply chains!), innovation, public-private partnerships, infrastructure investment, artificial intelligence, modern banking and finance and …. you get the picture. Bottom line: we matter to Florida and they matter to us.
Florida: where there are beaches and palm trees, yes indeed – but so much more. And our relationship is so much more. Canada as friend, partner and ally. True across the U.S., and definitely true here in Florida. I'm very pleased to be able to use my experience and abilities to helping grow this relationship.
Susan Harper, Consul General
@CGMiamiHarper
Stay Connected!
Consulate General of Canada in Miami
Twitter English / French
Facebook English / French
Miami.gc.ca
Related Posts