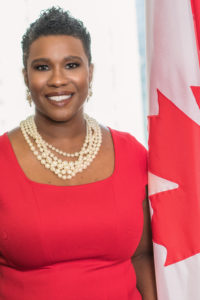 My first day on the job as Consul General of Atlanta, in September 2017, was my first time ever in the Southeastern U.S.A. I also landed in the middle of Hurricane Irma, and was immediately focused on our office's efforts to ensure the well-being of Canadian nationals in the region. The most important role of the mission is to serve and protect Canadian citizens across the six states of our territory: Alabama, Georgia, Mississippi, North Carolina, South Carolina, and Tennessee. Fortunately, natural disasters are rare, and we are more typically assisting Canadians with emergency travel documents.
Fortified by the 15 years I spent on trade negotiating teams for the Government of Canada, I have mainly focused on trade issues over the past two years.  Canada and the United States have what is arguably the most significant bilateral trading relationship between any two countries. The supply chains that have been set up between our companies over the past two decades have created good-paying jobs across the country, but in particular have borne fruit in the Southeastern United States as it has become a hub for advanced manufacturing. The stability that our rules-based system has created for Canadian and U.S. companies – especially in the advanced manufacturing industry, which is flourishing in the Southeast U.S.A – must be protected.
While my work in trade policy and negotiations, and in particular with the Comprehensive and Progressive Agreement for Trans-Pacific Partnership, provided me with strong knowledge of the United States economy and the Canada-U.S. relationship, the opportunity to become acquainted with this region and advance the relationship has been extraordinary.
Though based in Atlanta, it is important to me that our mission builds and maintains solid ties in all six states. We have been supported in this endeavour through well-connected Honorary Consuls we have appointed in Raleigh and Memphis; the strong links we have with Governor's offices and Chambers of Commerce; and of course, the passionate, far-flung Canadian diaspora.
These alliances have helped us maintain a robust presence, along with initiatives such as Minister-level visits to North Carolina; participation in the International Homeland Defense & Security Summit in Mississippi; the Clemson Canada Center in South Carolina; creation of educational exchanges between Canadian and Alabama tertiary-level institutions; LGBTQ2 collaborations with the City of Atlanta; and International Trade Day in Tennessee.
Now that 232 tariffs on aluminum and steel vis-à-vis Canada have been lifted, and USMCA negotiations are concluded, I have been able to devote more time to cultural diplomacy. Buoyed by their own rich and diverse heritage, Southeasterners have been appreciative of the varied facets of Canadian culture and history our office showcases, and they have welcomed some of those talents and brands for cross-border partnerships and businesses. I love to feature Canada's brilliant fashion and jewelry makers – even if that means wearing their designs head-to-toe!
Canada and the U.S. defence and security partnership is also important for my team. Whether working with local partners in the lead up to Super Bowl LIII, or dialoguing with the Georgia Bureau of Investigations and the Attorney General of Georgia about our countries' efforts to combat human trafficking and the opioid crisis, the Consulate prioritizes the critical Canada-U.S. defence and security relationship and supports federal efforts through state-level activities and cooperative opportunities.
Heading into my third year, I will continue to be a visible and vocal advocate of celebrating how far we have all come together, and in advancing Canada's enduring friendships and dynamic economic relationships across the U.S Southeast.
Nadia Theodore, Consul General
@theodore_nadia
Stay Connected!
Consulate General of Canada in Atlanta
Twitter English / French
Facebook English / French
Atlanta.gc.ca
Related Posts