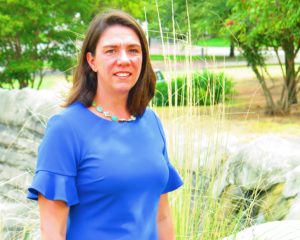 Mom, proud Canadian, energy and environment policy wonk, prairie girl.  If challenged to describe myself in ten words or less, that is how I would do it.
When I became Canada's Consul General to the South Central United States, I knew it would be a good fit.  I was just finishing five years heading the energy and environment section at our Embassy in Washington D.C., so had my finger on the pulse of our bilateral relationship with the United States. I had worked extensively with our provincial and territorial partners, as well as industry to advance our highly integrated bilateral energy relationship.  As I prepared for this position, I was inspired and intrigued by just how much opportunity the region presents for Canada.
Texas alone has the tenth largest economy in the world, slightly ahead of Canada.  It has the second largest population in the U.S., and some of the fastest growing metro areas in the country.  The Lone Star state and its elected officials value trade and investment, and recognize the jobs and growth they can generate.  They lead the U.S. in exports overall, specifically in energy and technology, and are home to the headquarters of a significant number of Fortune 500 companies.  The state is also a gateway for regional supply chains in Latin America.
Canada's commitment to free trade, with tariff free access to more of the global market than any other G7 country, as well as our investments in innovation and education, are of high interest to companies here.  Within my first month here, I have seen first hand recognition of Canadian leadership in clean tech, artificial intelligence, agriculture, energy, and digital entertainment.  We have strong connections through our agricultural sectors, collaboration through our space agencies (oh yeah, NASA is here too!). I am also very excited to see the opportunities that we are pursuing for Canadian indigenous businesses in the region.
My job in this region is much more than trade, and extends beyond Texas to Oklahoma, Arkansas, New Mexico, and Louisiana.
Of course, when you get down to it, the heart of our connections is people.  Nearly a million Canadians visit this territory every year, and nearly everyone I meet has a Canadian connection. A key way that people connect is of course through culture and sport.  The Acadian influence in Louisiana immediately brings Eastern Canada to mind, while rodeos and ranch life, and the majestic Rocky Mountains conjure other connections, both through ways of life and vistas.  Canada has such a rich tapestry, and the Consulate is connecting our musicians to new opportunities, and profiling Canadian films and literary leaders at marquis festivals like SXSW in Austin.  I look forward to some friendly sports-based rivalry too!
Building on the Consulate's over 50-year presence in the region, I have been working hard to establish relationships with elected officials and their offices to identify opportunities to further strengthen our connections, and to identify and address any concerns that may arise.  My first meetings have been very positive, with Canada seen as a strong and reliable partner and ally.  However, even long-time friends can sometimes take each other for granted, and not keep in touch as much as they would like.  So I'll be making it my continuing priority to keep the lines of communication open.
As the wife of a retired navy officer, I understand first hand the strong history our countries have working together on security and defence interests.  In fact, Canadian Forces are active at twelve locations in this region, working side-by-side with American military personnel. This includes Tinker Air Force base, home to the 552nd Air Control Wing, where more than forty Canadian Armed Forces members serve today, and which I look forward to visiting soon.  Early next year, I am so excited that we will welcome the Tony award-winning play Come From Away to eight cities in the area.  The story of planes diverted to Gander, Newfoundland on September 11th and how that small Canadian town embraced stranded passengers captures the essence of the Canada-U.S. friendship.  The central character in the play, Beverley Bass, was a Dallas-based pilot who still lives in the area.
From a personal perspective – I must say that I felt very much at home within a month of arriving in Dallas.  It is not just the wide-open skies, and the fact the great plains of North America extend from here to my home province of Saskatchewan.  It is the warmth and authenticity of neighbours and colleagues, and a thriving sense of community. I am thankful that our daughters were welcomed with open arms in their school, as well as on teams.  We even started a new Girl Scout troop for one of their classes, with their dad now leading a dozen excited second graders to explore science, nature, and community service.
Before signing off, I want to give a huge shout out to the Consulate team in Dallas and Houston.  They are each experts in their own right, and collectively demonstrate an inspired drive to work with our partners across Canada, whether in industry, government or civil society, to continue to build business connections, advance policy priorities, and keep Canadians safe when travelling in the region.
Rachel McCormick, Consul General
@CdaRachelM
Stay Connected!
Consulate General of Canada in Dallas
Twitter English / French
Facebook English / French
Dallas.gc.ca
Related Posts