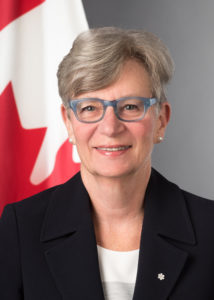 In my role as Consul General of Canada in New York, I often get asked about how different public sector life is from life in the private sector. Having served most of my career in the private and not-for-profit world, including as CEO of Alliance Atlantis Communications, I have to admit I wasn't sure exactly what to expect when I arrived in New York on a sunny but crisp September day in 2016.
There is a perception out there that if you want to make a big impact, have influence, and get things done—the private sector is the place to be. But after three years at the helm of a dedicated and passionate team of public servants, I can say that the same is absolutely true for the public sector, specifically for the diplomatic world.
Sure, the bureaucracy can be cumbersome and the pace of change perhaps a little slow. Canadians expect thorough and thoughtful decision-making when it comes to how public funds are spent, and ensuring accountability to Canadians is of utmost importance. But bureaucracy should never be incompatible with bold thinking, and it is certainly no reason not to think big and dream bigger —a constant refrain in our office.
I am so proud of the many initiatives we have spearheaded to promote the Canadian brand in a city as vibrant as New York, many of which are closely aligned with the work I did as a long-time executive in Canada.
I grew up living and breathing arts and culture, and wore the Maple Leaf on my sleeve throughout my career. New York is the epicentre of the cultural world and affords an enormous stage for Canada. We often use culture as a tool to promote not only Canadian artistic excellence, but also Canadian values like diversity and inclusion. Whether at the Metropolitan Museum of Art, Lincoln Center, an off-Broadway theater, or a small gallery in Chelsea, it has been truly inspiring to see Canadian artists shine in this great city. In so many instances, our story and our values are better conveyed through our artists.
I can't think of a better example than a memorable (and fittingly— snowy!) evening on Broadway in March 2017, when we invited an exemplary group of political leaders, diplomats, and business people to join Prime Minister Trudeau at Come From Away, the Canadian musical that tells an emotional and powerful story about the Canada-U.S. friendship set in the week following the 9/11 attacks.
The show, which is still warming people's hearts on Broadway and around the world, was an incredibly proud moment for us. It was also a demonstration of the strength of Canadian storytelling and creativity.
It is for this reason that preserving the cultural exemption in the new NAFTA agreement, and protecting Canadian cultural sectors in general, is so important. Just as it was a focus of my time in the private sector, so too was it a particular focus for me as a member of Minister Freeland's NAFTA Advisory Council.
The long and sometimes arduous effort to renegotiate NAFTA reinforced for me the critical importance of our diplomatic service. With all missions in the U.S. having a clear mandate to advocate for a successful negotiation of NAFTA, we set out to travel to every corner of our 5 state territory to convey the importance of NAFTA to the Canada-U.S. relationship, and listen to people's views, from labour leaders in Albany, to small business owners in Buffalo, to trade associations in rural Pennsylvania. Like our sister missions across the United States, we activated a network of influencers and were on the front lines of the conversations with members of Congress, the Administration, and countless stakeholders all in support of protecting Canadian jobs and long-term interests.
In my mind, the renegotiation of NAFTA highlighted two main points: first, even as international relations are rocked by tumultuous and often unpredictable transitions, diplomacy remains incredibly relevant and impactful. And second, the Canadian foreign service lives up to its reputation as a highly skilled, professional, and principled diplomatic corps.
I have always said that the key to success in any job is to surround yourself with smart people. I am grateful to have had the opportunity to work with so many bright and talented leaders throughout the years. I have paid specific attention to the extraordinary women I have worked with along the way, because I have seen the unique challenges they continue to face in the professional world. While important progress has been made over the decades, more work is needed to fully realize gender equality in the workplace. I am proud that the Consulate General has prioritized this issue, including through our annual and highly successful Women in Business series, co-organized by the Consulate General of France and the Economic Club of New York. As we look ahead to the third edition of the conference in 2020, we are excited to continue playing an important role in this conversation, by convening and challenging top-level C-suite executives, board members, and investors who really can make a difference.
As I reflect on my time as Consul General over the last three years, I realize how difficult it is to summarize the breadth of our activities, which span so many sectors and reach so many people. So I will conclude on this note: as I prepare to turn the page on this chapter of my career, I will leave New York with the strong conviction that diplomacy is so much more than the art of being tactful—it is the art of being transformational. And it has never been more vital or worthwhile.
Phyllis Yaffe, Consul General
@CGYaffe
Stay Connected!
Consulate General of Canada in New York
Twitter English / French
Facebook English / French
newyork.gc.ca
Related Posts