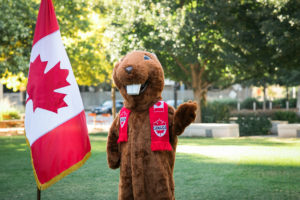 One might believe that geese are the only animals to migrate from Canada to the United States, but now there's a new arrival making a splash in the south. Betty Beaver is here, and she's on a roll! Curious, spunky, and friendly as can be, Betty Beaver promises to bring a fresh new face to diplomatic relations.
This furry ambassador might hail from Canada, but since her arrival in Texas, she's been on a mission of nonstop friendship and fun for Canadians and Americans alike. Though most beavers build dams, Betty Beaver builds bridges; and hers span entire countries instead of rivers. Her goal is to foster better relationships between the neighboring nations, and raise awareness of the values they share. With every heartwarming story she uncovers, Betty finds out just how similar Canadians and Americans truly are. Interviewing everyone from cooks to cowboys, dealing with topics ranging from community to climate change, Betty represents the voices of Canada and the priorities shared on both sides of the border.
Through a series of videos available in both French and English, Betty highlights the deep people-to-people linkages between our two countries, sparks discussions on how Canada and the U.S. can help one another, reveals fun facts about local activities, and everything in between. Betty's bright buck-toothed grin provides a friendly face to diplomacy and bridges the gap between governmental initiatives and daily life in a way that is universally appealing, and the nature of her interviews ranges from interesting to inspiring. There's something for everyone, whether they're American, Canadian, or Canadian-American.
Betty Beaver makes her impact by enthusiastically diving into everything both her old and new homes have to offer. Come what may, Betty will keep exploring all the wonders she can find in Arkansas, Louisiana, New Mexico, Oklahoma, and Texas, and collecting stories along the way. In a world where going out of one's way to find out the similarities and differences between two vast nations can be daunting, leave it to this beaver to make it fun.