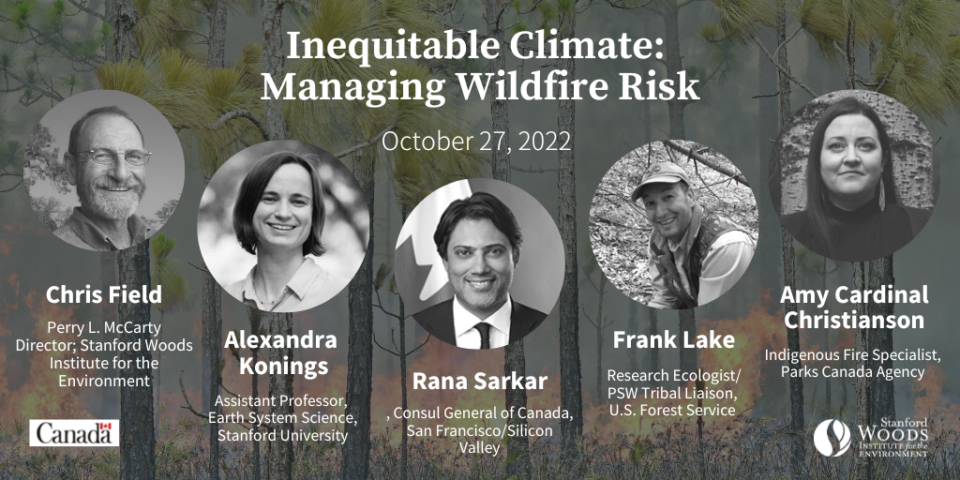 Join the Consulate General of Canada in San Francisco and the Stanford Woods Institute for the Environment on Thursday, October 27 at 11 am PT/2 pm ET for a webinar "Inequitable Climate: Managing Wildfire Risk."
Indigenous communities across Canada and the United States have managed natural landscapes for millennia using fire as a tool to promote ecological diversity and reduce the risk of catastrophic wildfires. In contrast, the primary focus of wildland fire fighting agencies had been to suppress fires as quickly as possible. Now, climate change, past fire suppression, and increased populations in wildfire-prone areas are all contributing to more frequent and severe wildfires and forcing a re-examination of management practices. A wide range of interventions – including prescribed and cultural burning – could help decrease risks in the future, but these will require proactive planning and big increases in investments in on-the-ground management.
This webinar will feature a panel of Stanford scholars and U.S. and Canadian experts on wildfire management who will examine best-practices and share lessons learned on traditional forest treatment: how practitioners must adapt to new climate factors public perceptions of controlled burns, and the policies and measures needed to help reduce wildfire risk.