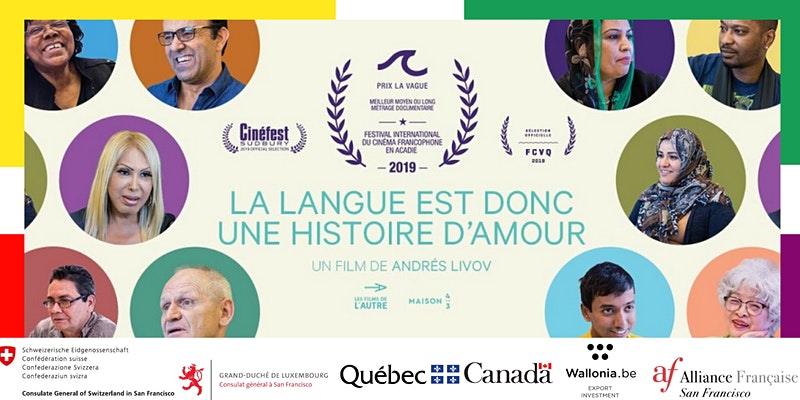 Celebrate Francophonie month with a screening & discussion of the Canadian movie "La langue est donc une histoire d'amour"
About this event
SPÉCIALE FRANCOPHONIE
Special "Celebrate Francophonie" film screening of "Language is a love story" (original title:"La langue est donc une histoire d'amour" – Canadian production) co-hosted with Consulate General of Luxembourg in San Francisco, Consulate General of Switzerland in San Francisco, Wallonia Export & Investment Agency, Consulate General of Canada of San Francisco, and Quebec delegation in Los Angeles.
Movie of the week: Language is a love story (original title: "La langue est donc une histoire d'amour")
Synopsis: Miss Loiseau's class is unlike any other. Her adult students are recent immigrants: some of them refugees, most learning to read and write for the first time, all eager to study, find work, and raise their families in peace. Their stories of pain and hope converge in one big-hearted lesson.
Trailer: https://vimeo.com/572212488
1. Enjoy an online screening of the movie at your convenience through a Vimeo link which will be sent directly to you during the week prior to the discussion.
2. You will then receive a zoom link to discuss the movie in French with one of our teachers, Coline, and other participants.
Please watch the movie on your own before joining the discussion.
Got an AFSF membership? Go to this page to register for free: https://www.afsf.com/classes-for-adults/workshops/
If you do not have a membership yet, you are welcome to get one here: https://www.afsf.com/about/memberships/
If you have any other questions, please contact [email protected].