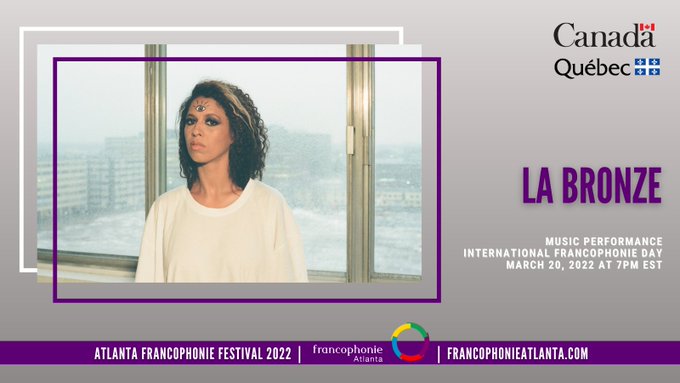 Join the Atlanta Francophonie Festival for a virtual music performance of La Bronze
Singer-songwriter from Quebec with Moroccan origins, La Bronze is the reflection of an uninhibited, beautiful and fierce generation.
Her music presents a rich and contrasting mix of alternative pop, electronic and rock influences. Her voice praises bodies and minds completely assumed. On stage, La Bronze strikes with a sense of freedom as she performed more than a hundred shows in France, Belgium, Germany, the United States, Morocco, Switzerland, Canada, Brazil, Chile and Quebec.
The whole world discovered her with her now famous cover of Formidable by Stromae in Moroccan Arabic, which has now over three million views on YouTube.
Her new album will be released on March 18, 2022 and La Bronze has since disclosed two singles ; Briller and L'habitude de mourir. Together, they have more than 47 000 views and announce an album that is both rhythmic and intimate.
This event is made possible by the Consulate General of Canada in Atlanta.