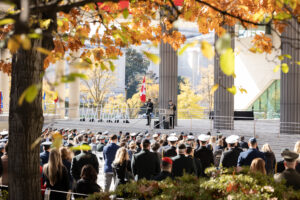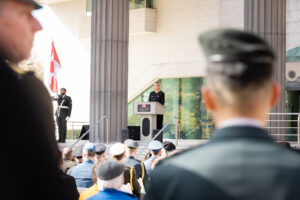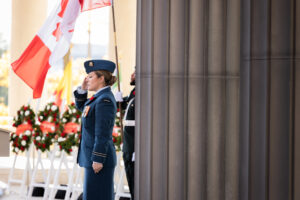 On November 11, the Embassy of Canada held a ceremony to observe Remembrance Day. It was a day to honour those who served and continue to serve, to remember the fallen, and to reflect on our collective responsibility to ensure their legacies are never forgotten.
Members of the Canadian Armed Forces, their families and friends, representatives from the defence and diplomatic communities, members of the United States Armed forces, and veterans were in attendance. This year, 73 members of the Canadian Military Wives' Choir joined the ceremony from across Canada, underlining the shared burden of service that military families bear.
This year's ceremony was particularly significant as it commemorated the 70th anniversary of the signing of the Korean Armistice Agreement, marking a momentous chapter in our shared history.
In her address, Ambassador Hillman underscored the day's significance, "To the members of our Canadian Armed Forces, your families, and the veterans who are here today: I am deeply honoured to share this day of reflection and remembrance with you." She highlighted the collective responsibility to remember and honour those who have served, including the 26,000 Canadians who participated in the Korean War. The Ambassador recalled the story of Montreal's Ted Zuber, a Korean War veteran and artist, whose life and work embodied the lasting impacts of war.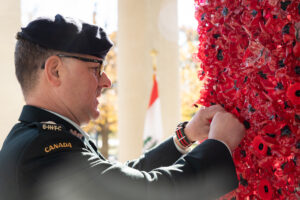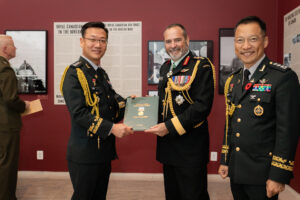 The Canadian Defence Attaché, Major-General St-Louis, added a deeply personal touch, reflecting on the broader significance of the day, "It warms my heart to see all of you on what is a difficult day for serving families, a difficult day for me, and a difficult day for so many veterans." He emphasized the enduring symbol of the poppy, representing not only the sacrifices made but also the hope for peace and freedom. In a touching moment, he recounted the story of Corporal Jonathan Couturier, a fallen soldier in Afghanistan, and the profound impact of loss on those left behind.
This year's ceremony was not just about remembering the past; it was also a reminder of the ongoing challenges and conflicts in the world. Major-General St-Louis noted the current situations in Ukraine and instability in the Middle East, highlighting the importance of standing against aggression and oppression. "On this Remembrance Day, let's recommit ourselves to stand shoulder to shoulder against aggression like we did in Korea more than 70 years ago, and let's commit ourselves to remember."
Lest We Forget
Photos by Oskar Dap Photography. See more photos of the ceremony here.