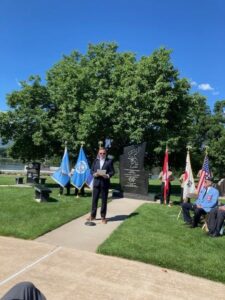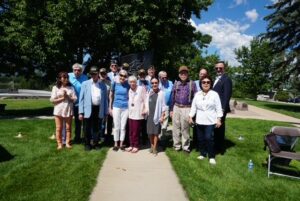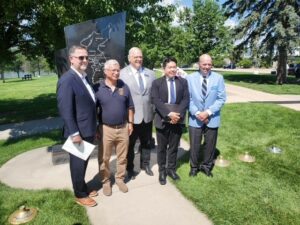 "Known sometimes as "the Forgotten War," the Korean War is still very much a reality of our world today, quietly looming along the demilitarized zone of the 38th Parallel." ~ Consul General Sylvain Fabi
On June 25th, 1950, Canada answered the call from the UN Security Council to support South Korea following its sudden invasion by North Korea. Over the course of the war, Canada dispatched over 26,000 soldiers to South Korea between 1950 and 27 July 1953, making it the third largest contributor to the war effort among allies.
"Our military forces served on land, sea, and air, and by the end 516 brave Canadians had paid the ultimate price for the cause… The cost of their lives in turn almost certainly saved those of many others." ~ Consul General Sylvain Fabi
On July 22, Consul General of Canada in Denver Sylvain Fabi served as the keynote speaker for Colorado's Korean War Armistice Day memorial recognition ceremony.  This annual event takes place every year at the Korean War Monument in Memorial Park, Colorado Springs to honour all who fought in the conflict. Each year, the event selects a keynote speaker representing a different Korean War allied nation to reflect on their country's history in the war. This year, Canada was asked to serve as the featured ally. In addition to providing remarks, Consul General Fabi participated alongside veterans in the wreath-laying ceremony.
Veterans of the Korean War and their loved ones, family and friends of those who perished, active duty military, representatives of the Korean business community, local media, and elected leaders somberly joined together to remember the Forgotten War.
Canada's contributions to the defence of South Korea and to upholding freedom remain an important foundation of the Canada-South Korea relationship to the present day. Today there are monuments in both Canada and South Korea, commemorating Canadian service in the Korean War. Inscribed on the Monument to the Canadian Fallen are the words "We'll never forget you brave sons of Canada" — a reminder to all that the Forgotten War is one that must be remembered.
"Canada gives you our word that we will always keep the fallen in our minds and hearts. The Un-Forgotten War is remembered. We will always remember the service and the sacrifice of those that answer the call."   ~ Consul General Sylvain Fabi