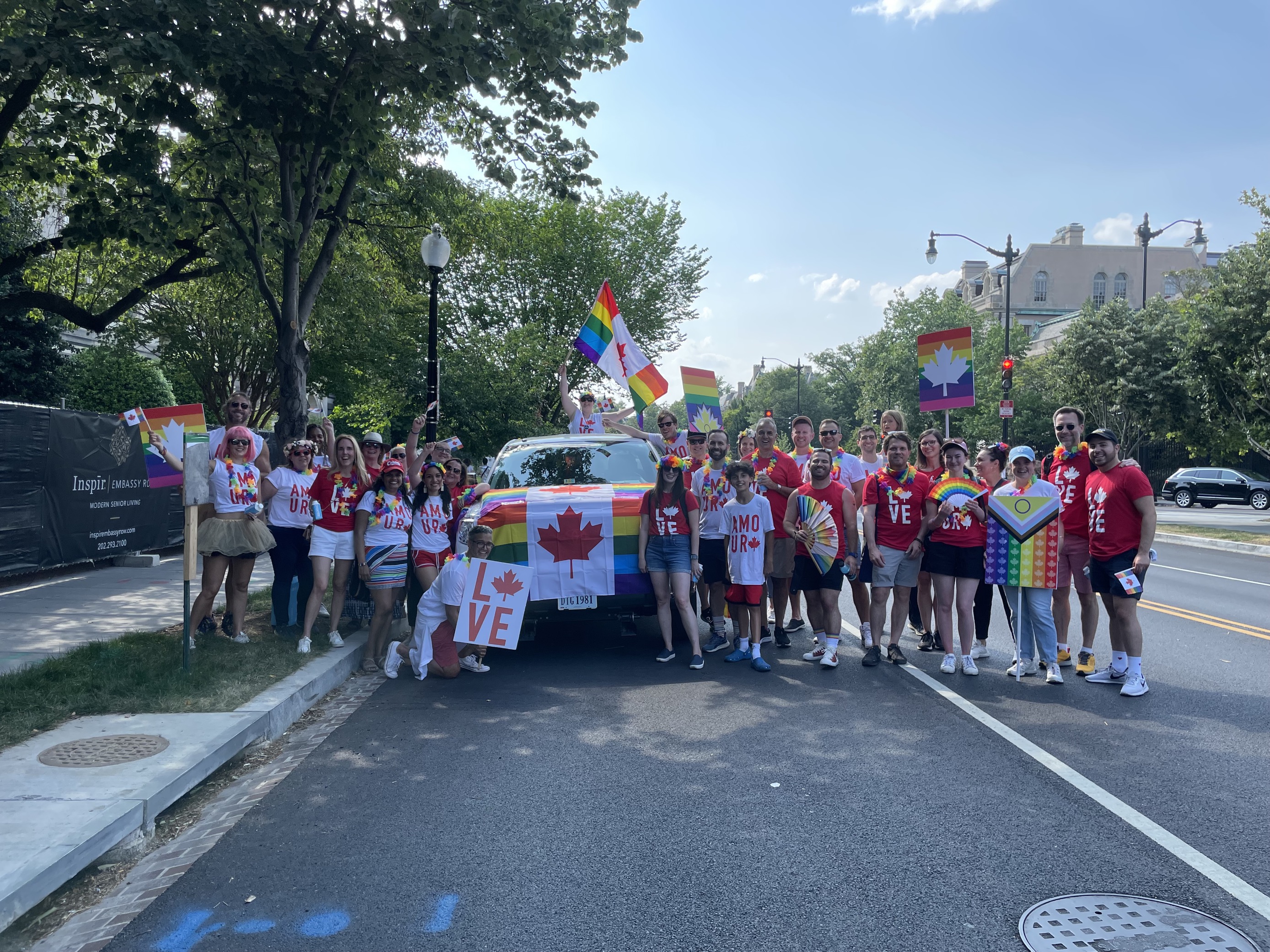 June is Pride Month in the U.S. and the start of Pride season in Canada, and the Embassy was proud and excited to get out its rainbows and celebrate! For Canada, Pride Season is a term that refers to the wide range of Pride events that take place over the summer (June to September) when we recognize, celebrate, and learn more about the countless contributions Two-Spirit, lesbian, gay, bisexual, transgender, queer, intersex, and additional sexually and gender-diverse identities (2SLGBTQI+) Canadians have made to the country. The 2SLGBTQI+ acronym is used by the Government of Canada, and the 2S recognizes Two-Spirit people as the first 2SLGBTQI+ communities, as "Two-Spirit" is described by some Indigenous peoples do describe their gender, sexuality and spiritual identity.   
Canada is proud to celebrate Pride across the country, in the United States, and around the world. On June 10, Embassy staff, family, and friends took to the streets of Washington, D.C. and participated in its annual Capital Pride Parade for the sixth year, walking proudly alongside our American neighbours and other Embassies in the United States. Floats, banners, flags, and rainbows were on display as the parade marched along crowds of thousands of onlookers on the 1.5 mile route. The Capital Pride Parade and festivities that took place over the weekend were estimated to have attracted around 600,000 people or more!    
Canada has a long history of advocating for human rights, including the rights of LGBTQI+ members. The country actively promotes 2SLGBTQI+ human rights in multilateral forums: 
the United Nations 
the Organization of American States 
the Organization for Security and Co-operation in Europe 
the Equal Rights Coalition 
Canada is also a member of the UN LGBTI Core Group, an informal, cross-regional group of UN member states established in 2008. Its main goal is to work within the UN framework to ensure universal respect for the human rights and fundamental freedoms of 2SLGBTQI+ people. 
In June, Prime Minister Justin Trudeau announced that the Government of Canada is partnering with Rainbow Railroad, a non-profit organization based in the U.S. and Canada, which protects LGBTQI+ refugees and welcomes them to Canada. Read more on how Canada is providing LGBTQI+ people with a safe home in Canada: https://www.pm.gc.ca/en/news/news-releases/2023/06/08/providing-lgbtqi-people-safe-home-canada  
We hope to see you at next year's Capital Pride Parade!  
Happy #Pride, D.C.! 🌈✨

We were thrilled to march in @CapitalPrideDC today, celebrating love, diversity, and equality! Let's keep walking forward towards a more inclusive world for all. #DiplomacyUnited4Pride pic.twitter.com/QUnvRUSNCl

— Embassy of Canada US (@CanEmbUSA) June 10, 2023