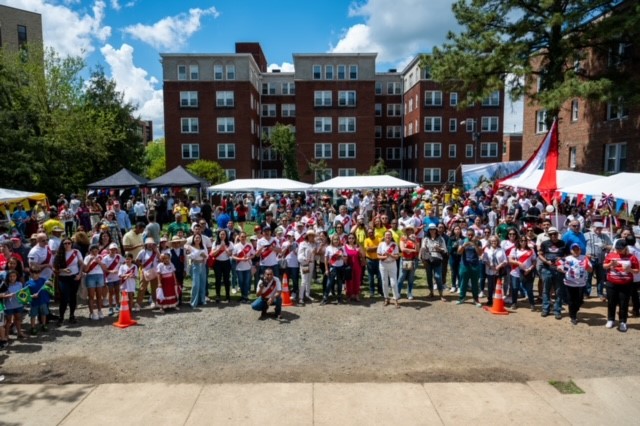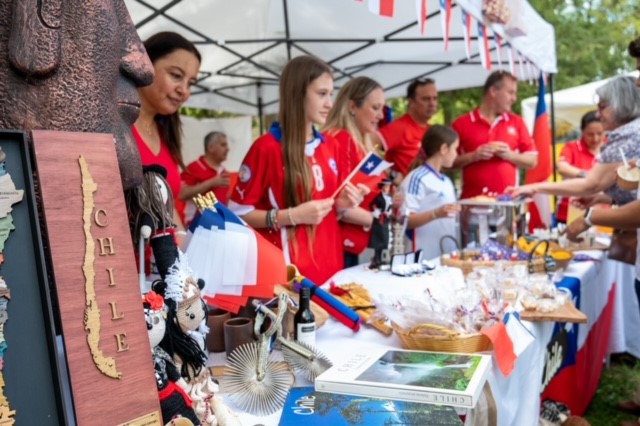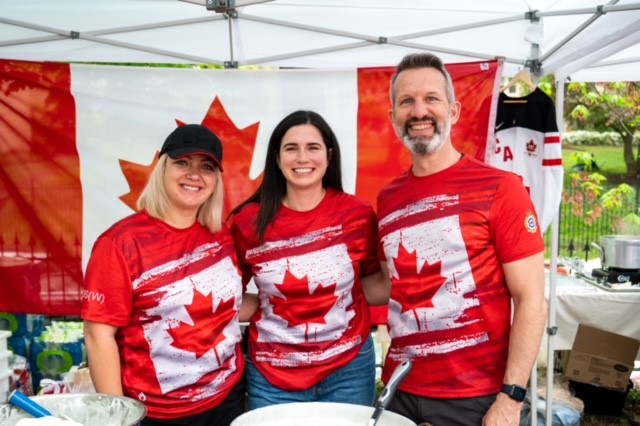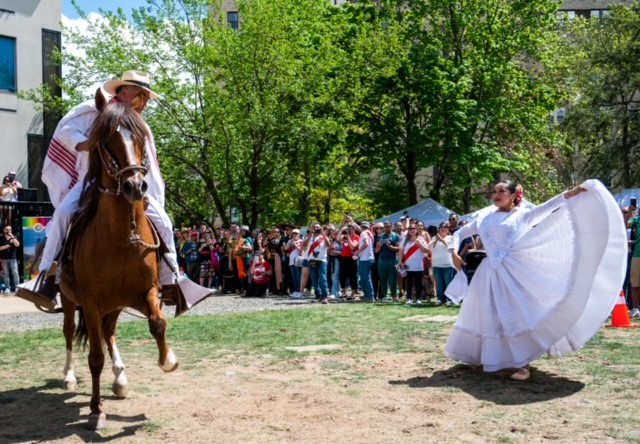 On April 15, the Inter-American Defense Board (IADB) held its annual "Encuentro Cultural de las Americas / Cultural Meeting of the Americas" at La Casa del Soldado, or "the Soldier's House" in Washington D.C.
Each year the event builds a rich program to celebrate and promote all cultural aspects of the IADB Member States, representing 29 countries from across the western hemisphere.
This year, over 700 guests had the opportunity to enjoy music, dance, food and more, from Brazil, Canada, Chile, Colombia, Dominican Republic, Ecuador, Guatemala, Mexico, Peru, Paraguay, United States and Uruguay.
Canada's participation was made possible by the Canadian delegation to the IADB and a team of enthusiastic volunteers from the Canadian Defence Liaison Staff in Washington. Throughout the day, visitors to the Canada booth were greeted with Canadian trivia and other games, and had the opportunity to enjoy Maple Salmon bites, Nanaimo bars, and poutine. Moose Milk, a Canadian wintry cocktail which finds its roots in the history and traditions of the Canadian Armed Forces, was also served and was a great crowd pleaser.
El Encuentro Cultural event is emblematic of the organization's diversity. "The Cultural Meeting of the Americas represents a great opportunity to bring together representatives of the most diverse nations of the continent, in an atmosphere of harmony and camaraderie," said the Director General of the IADB Secretariat, Brigadier General Porfirio Fuentes Vélez of Mexico, during his remarks.
The IADB is an international organization that provides defence and security advisory services to the Organisation of American States (OAS). Created in March 1942, the IADB is the oldest regional defence organization in the world, having marked its 80th anniversary last year. A member since 2002, Canada works alongside its Latin American and Caribbean partners to address threats to stability, sustainable development, democracy, and prosperity in the Western Hemisphere.
The IADB also provides educational services to senior military, police, and government officials of OAS member states through the Inter-American Defense College (IADC), located at Fort McNair. The one-year post-graduate degree in hemispheric defence and security is offered with simultaneous translation in the four official languages of the OAS: English, French, Spanish, and Portuguese. Many alumni go on to become General Officers, Ambassadors, Ministers, and even Heads of State.