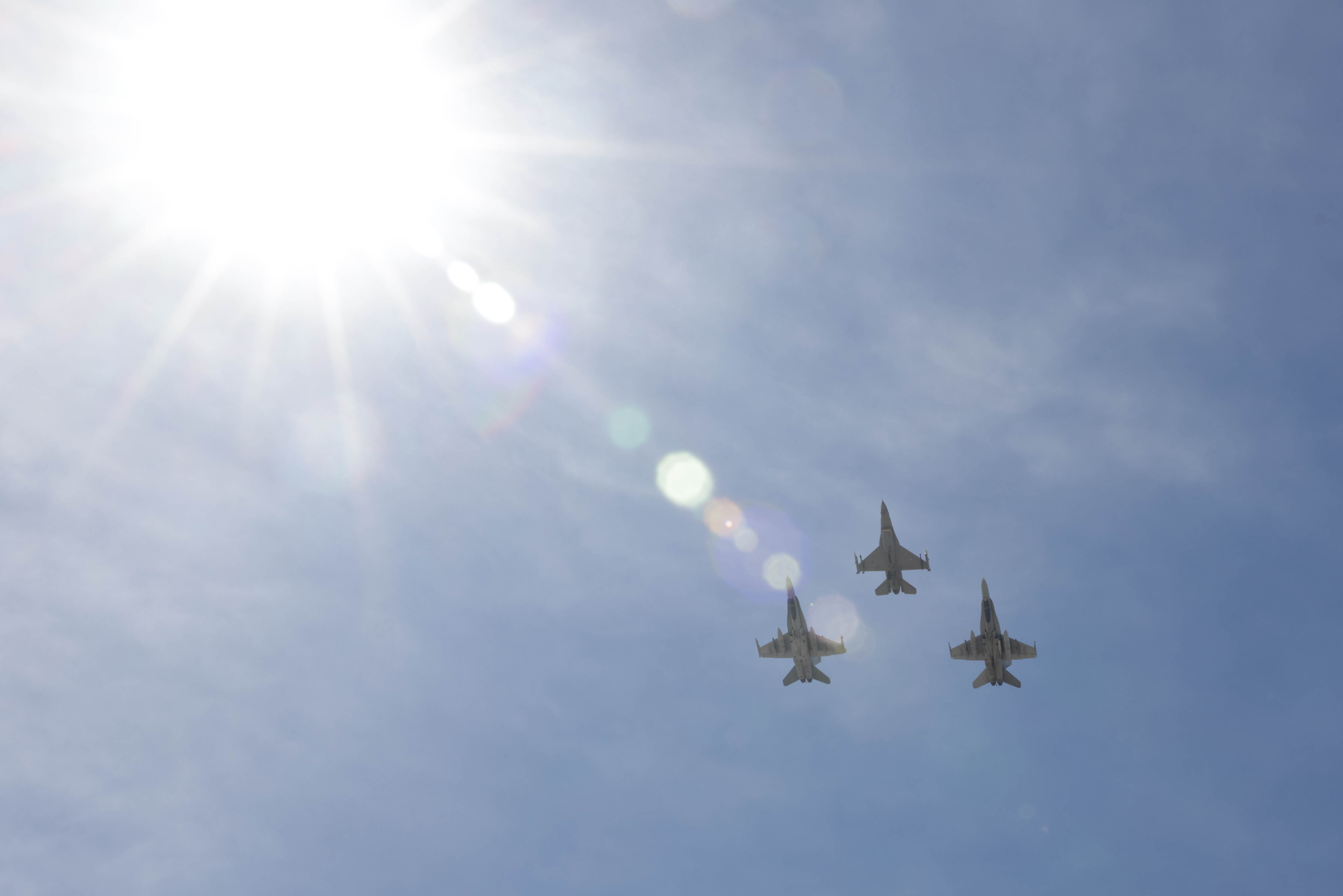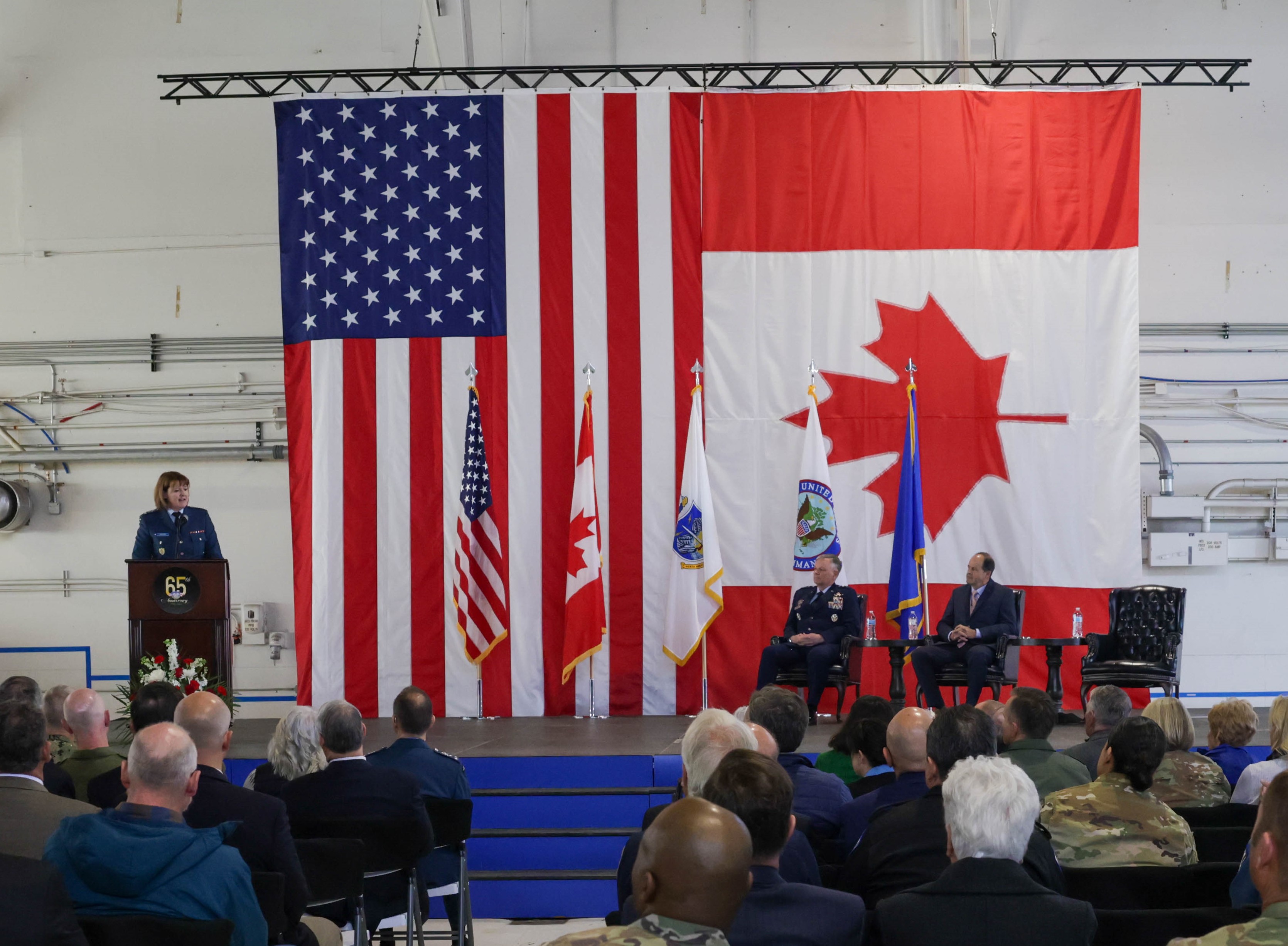 This year marks the 65th anniversary of the North American Aerospace Defense Command (NORAD), an enduring symbol of the important partnership between Canada and the United States.
Hosted by General Glen D. VanHerck, Commander of NORAD and U.S. Northern Command, events were held last week at the Peterson Space Force Base in Colorado Springs, Colorado, to celebrate the unique bilateral command that was officially formed on May 12, 1958.
Among the distinguished guests was the Honorable Melissa Dalton, Assistant Secretary of Defense for Homeland Defense and Hemispheric Affairs, as well as the event's keynote speakers: General Tom Lawson (Retired, Royal Canadian Air Force), former Chief of the Defence Staff (Canada) and former NORAD deputy commander; and Lieutenant-General Frances Allen (Royal Canadian Air Force), Vice Chief of the Defence Staff (Canada).
In addition to the official 65th anniversary ceremony and aircraft flyover on April 12th, the week's events also included an Arctic and Homeland Defense Symposium organized by the Homeland Defense Institute and the Ted Stevens Center for Arctic Security Studies that featured a number of Canadian academics and other experts. Representing Canada's diplomatic presence in the United States at these events were Consul General of Canada in the U.S. Mountain West Region, Sylvain Fabi, as well as officials from the Consulate General of Canada in Denver, the Embassy of Canada and Global Affairs Canada HQ. The Consulate in Denver was proud to support the symposium by hosting a reception for attendees on the evening of April 11th. The reception was attended by an estimated 80 guests, including a majority of the day's speakers and representatives from allied nations such as Denmark and Great Britain.
NORAD – the world's only binational military command – is charged with defending millions of square kilometres of airspace and coastline, and protecting citizens on both sides of the border. This unparalleled military relationship between Canada and the U.S. is based on common values, friendship, and an unbreakable bond as Canadians and Americans work side-by-side 365 days a year, seven days a week, 24 hours a day to protect North America.
The organization has continually adapted to face new threats, including receiving a maritime warning mission alongside its existing aerospace warning and control missions in 2006. As new technologies emerge and the strategic landscape changes, NORAD's mission remains as relevant today as it did in 1958.
For more information on the North American Aerospace Defense Command and the 65th anniversary ceremony, please visit NORAD celebrates 65th anniversary > North American Aerospace Defense Command > Press Releases.
Did you know?
NORAD's motto, 'We Have the Watch' was adopted in 2011 and reaffirms the organization's historic mission. 24/7/365, NORAD has the watch over the North American aerospace, and along the maritime approaches to Canada and the U.S.
Over 300 members of Canadian Armed Forces work side-by-side with American counterparts from the Armed Forces across the United States. These shared efforts are essential to protecting North America.
Since 2001, NORAD has tracked approximately 33,500 Tracks of Interest (TOI). A TOI is data appearing on a sensor that represents an airborne object that has the potential to threaten North America until determined to be nonthreatening by NORAD.
Happy 65th Birthday @NORADCommand!
This unparalleled military relationship between Canada and the U.S. is based on common values, friendship, and an unbreakable bond as we work together to protect North America's airspace and coastlines. #NORAD65 https://t.co/vTxtg6nuD0

— Embassy of Canada US (@CanEmbUSA) May 12, 2023