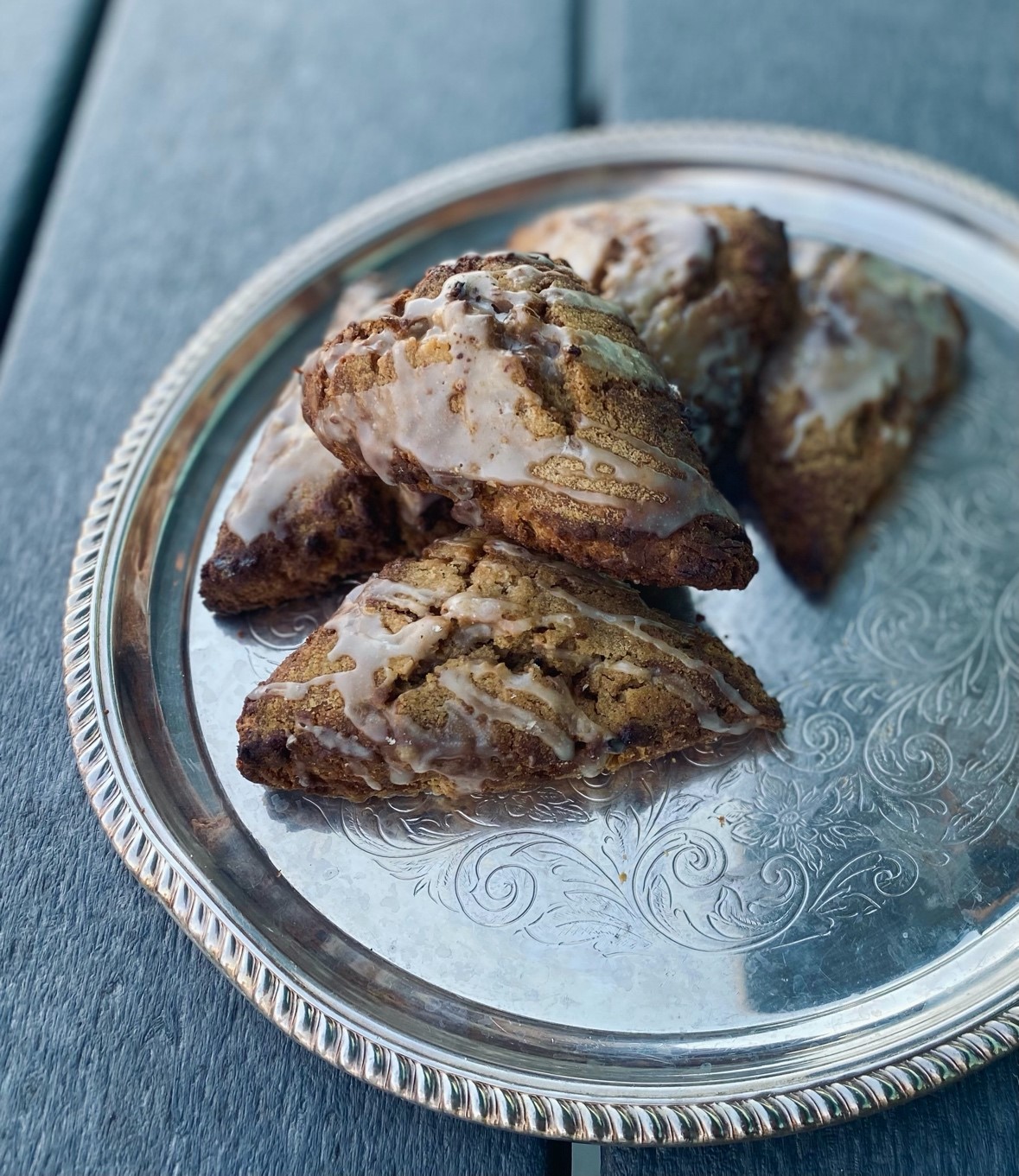 Makes 8-12 scones
Both Canada and the United States are home to many grain farmers, millers, bakers, and makers who grow and produce regional grain, flour, and goods. Growing up, my mother "never followed the recipe", and always incorporated whole wheat flour in her baking. – Chef Laetitia Chrapchynski
Ingredients
Scones:
120g (1 cup) all-purpose flour
110g (1 cup) stone-ground rye flour
1 tbsp baking powder
115g (1/2 cup) light brown sugar
1/2 tsp salt
1 tsp cinnamon
½ tsp ground cardamom
¼ tsp freshly grated nutmeg
1 orange, zested
150g (10 Tbsp) butter
1 egg
85mL (1/3 cup) buttermilk
130g (1/2 cup) canned pumpkin
1 1/2 tsp vanilla extract
Buttermilk Orange Glaze:
85g (3/4 cup) icing sugar
¼ tsp vanilla
2 Tbsp buttermilk
1 orange, zested
*To make the brown butter: Melt and cook the butter in a saucepan over medium heat, swirling occasionally, until a deep brown color is reached. Pour into a heatproof container, cool slightly, then freeze until solid, about 2 hours.
Preheat the oven to 425°F. Line a baking sheet with parchment.
Combine the flours, baking powder, sugar, salt, and spices until well blended.
Work the chilled brown butter into the flour mixture until unevenly crumbly.
Combine the egg, pumpkin puree, and milk. Mix into the flour-butter mixture.
Turn the dough out onto a floured surface and pat it into an 8″ disk. Cut into 8-12 wedges and place on a baking sheet.
To make the glaze, combine all ingredients. Set aside.
Bake the scones for 15 to 18 minutes, until golden. Cool slightly before glazing.
Cooking Notes: Uncooked portioned scones can be kept in the freezer for up to three months. After being thawed in the refrigerator, bake them as instructed above.