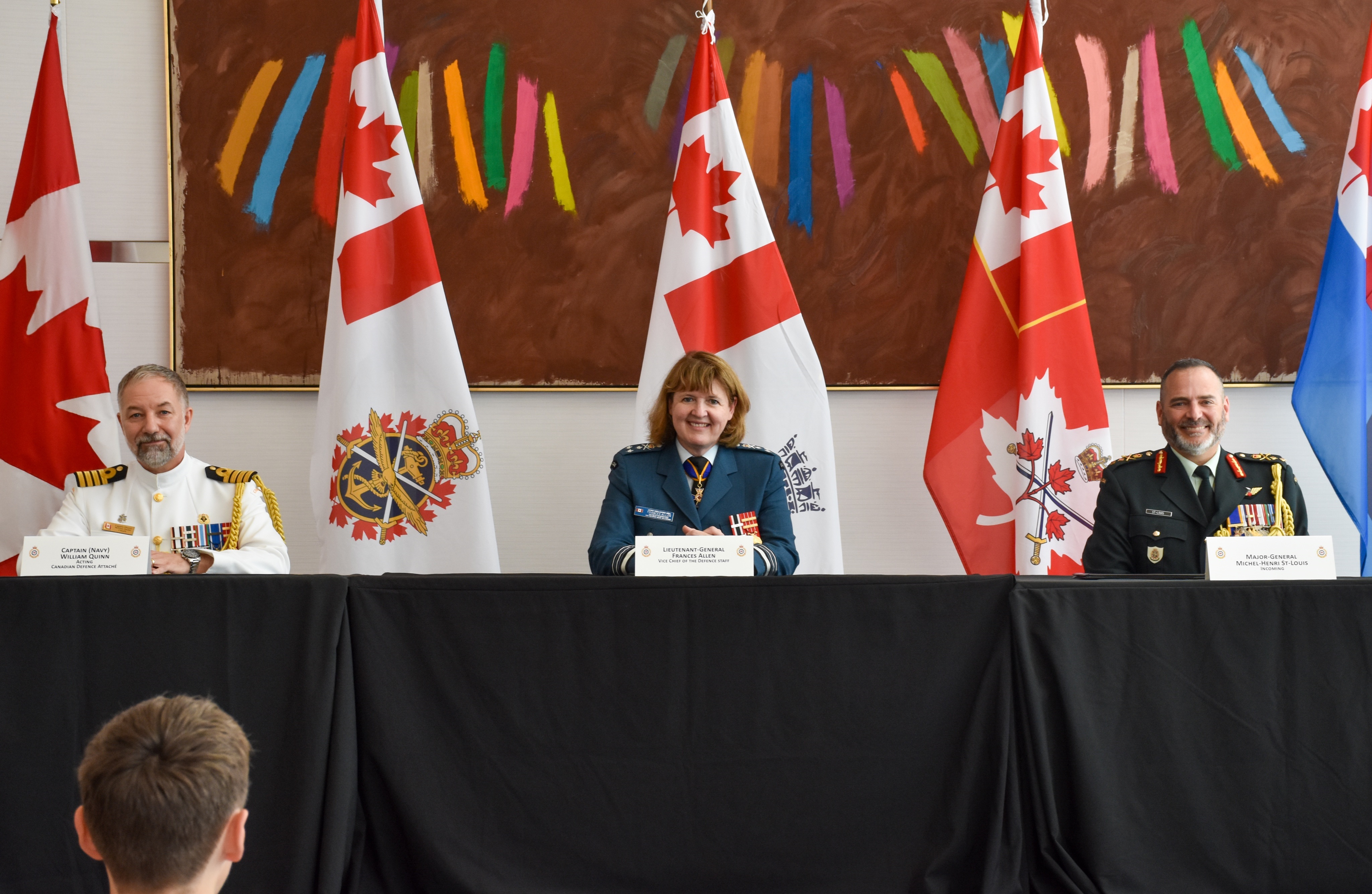 During a ceremony at the Embassy of Canada on July 13, Major-General Michel-Henri St-Louis became the new Canadian Defence Attaché to the United States, replacing Captain (Navy) William Quinn.
Captain (Navy) Quinn was acting in the role since March following the retirement of Major-General Paul Ormsby.  The Canadian Defence Attaché advises Ambassador Kirsten Hillman on defence and security matters, works to enhance military relations, and helps to tell the stories of the men and women in uniform.
"On behalf of all Canadians and our government, I would like to thank Paul, his wife, and his family for their service to Canada and their contribution to the Embassy here in Washington," said Ambassador Hillman. "Captain Quinn, Bill, you've stood in admirably as Defence Attaché and I am grateful you were here to bridge the gap."
Throughout his career, Major-General St-Louis has worked with his U.S. counterparts. He has deployed on missions in Bosnia, Croatia), Afghanistan, and the Middle East. He has attended the U.S. Capstone Leadership Program and is a graduate of the National War College in Washington, DC. Major-General St-Louis is also an Officer within the Legion of Merit (U.S.).
Ambassador Hillman welcomed Major-General St-Louis and his family back to Washington. "Michel-Henri, I know you are an engaged and passionate leader who cares deeply about others, which makes you a great fit here at the Embassy and a fine representative of Canada in this town," she said. "We are delighted to have you on our team."
As Defence Attaché, Major-General St-Louis is now responsible for Canada's defence programme in the United States, which includes supporting Canadian Armed Forces operations. He will also maintain relations with the United States Department of Defense, including the Office of the Secretary of Defense, the Chairman of the Joint Chiefs of Staff, and the Joint Staff.
Related Posts