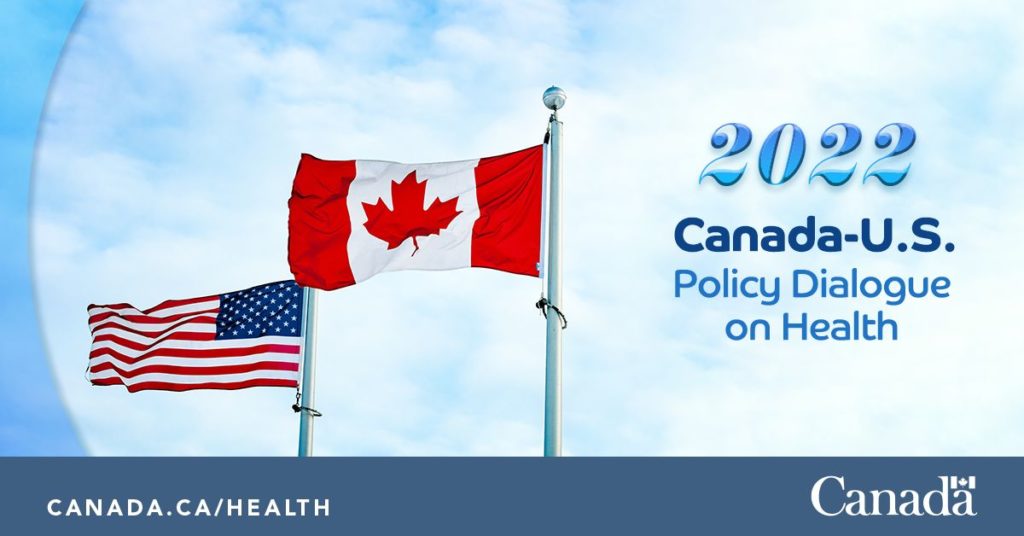 No matter where you live in the world, no matter the language you speak, COVID-19 has become a household name.  From mask-wearing and vaccines to hand washing and virtual classrooms, the way we live and travel has been significantly altered.  What gives us hope in these unprecedented times, is the way in which countries have come together, bringing their best ideas and brightest minds to help find solutions.
The pandemic has taught us that virtual connections can have meaning too.  People at all levels of government are in touch on a range of common issues.  Premiers and Governors are talking. Ministers and Secretaries are talking.
The Canada-U.S. Policy Dialogue on Health is one in a long list of on-going, substantive conversations.  The Dialogue serves as a key platform to advance health cooperation between our two countries. Together, senior representatives discuss key health issues of shared interest and potential areas for collaboration in the year ahead.
On January 13-14, 2022, representatives from Health Canada (HC), the Public Health Agency of Canada (PHAC) and the United States Department of Health and Human Services (HHS) met for the fully virtual, 2022 Canada-U.S. Policy Dialogue on Health.  The theme of this year's Policy Dialogue is Health Equity, noting the disproportionate impacts of COVID-19, climate change, and other health threats on marginalized and vulnerable populations.
Health Canada Associate Deputy Minister Heather Jeffrey and U.S. Deputy Secretary of Health and Human Services Andrea Palm provided remarks to open the two-day event. The Dialogue included discussions on COVID-19, the health impacts of climate change, Indigenous health, access to healthcare, mental health, opioids, global health security, medical supply chains, and antimicrobial resistance (AMR). Canadian and U.S officials discussed working together on global health priorities in various multilateral venues, including the World Health Organization, the Pan-American Health Organization, and future pandemic preparedness in North America.
Following the first day of the Dialogue, HHS Secretary Becerra spoke with Canada's new Minister of Health, Jean-Yves Duclos – here is a readout of their recent conversation.