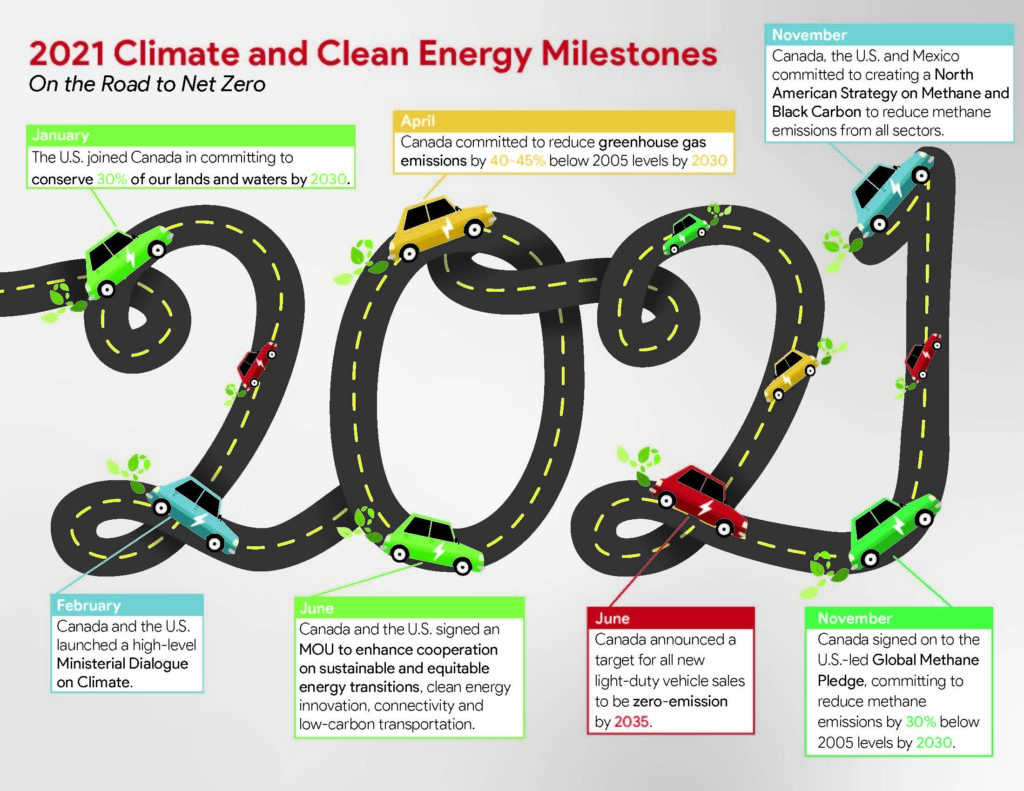 January: As part of the High Ambition Coalition for Nature and People, the U.S. joined Canada in committing to conserve 30% of our lands and waters by 2030.
February:  Canada and the U.S. launched a high-level Ministerial Dialogue on Climate, as part of the Roadmap for a Renewed U.S.-Canada Partnership.  Through the dialogue, Canada and the U.S. are working to coordinate cooperation on climate and explore opportunities to align policies and approaches to create jobs, while tackling climate change and inequality, and enhancing adaptation and resilience to climate impacts.
April: At the Climate Leaders Summit, Canada announced its new Nationally Determined Contribution (NDC) under the Paris Agreement, committing to reduce greenhouse gas emissions by 40-45% below 2005 levels by 2030.  The Government of Canada incorporated this target into law in June.
June:  Natural Resources Canada and the U.S. Department of Energy signed a memorandum of understanding to enhance cooperation on sustainable and equitable energy transitions, clean energy innovation, connectivity and low-carbon transportation.
June:  Canada announced a new mandatory target for all new light-duty cars and passenger trucks sales to be zero-emission by 2035.  [The U.S. followed suit, announcing a new target to make half of all new vehicles sold in 2030 zero-emissions vehicles.]
November:  Canada signed on to the U.S.-led Global Methane Pledge, committing to reduce methane emissions in the oil and gas sector by 75% – and across the economy as a whole by 30% – below 2020 levels by 2030.
November:  At the North American Leaders Summit in November, Canada, the U.S. and Mexico committed to creating a North American Strategy on Methane and Black Carbon to reduce methane emissions from all sectors, including oil and gas, collaborating to accelerate renewable energy deployment and the transition to sustainable transportation and preserving 30% of our lands and oceans by 2030.