UPDATED August 6, 2021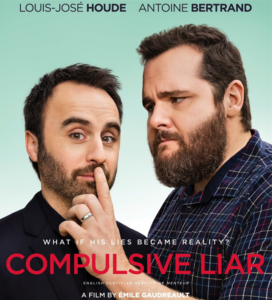 Film Screening: COMPULSIVE LIAR 
When: August 26, 2021; 8:30 P.M.
Where: Sylvan Theater (National Mall) Independence Ave SW & 15th Street NW, Washington, DC 20024
Presented by the Québec Government Office in Washington, in partnership with Quebec Cinema.
Directed by Émile Gaudreault, Comedy, 1h50, 2019, Canada 
With Louis-José Houde, Antoine Bertrand, Catherine Chabot 
For Simon, a public relations manager at a major aerospace company, lying is a way of life, almost a raison d'être. His family isn't fooled by his lies and have learned, somehow, to shut their eyes to his nonsense. But when Russian industrialists come to negotiate a contract that could save the struggling aircraft company where his brother also works, Simon's behavior becomes an important issue. Fearing that one lie too many will make everything fall apart, his relatives serve him an ultimatum. The same evening, a strange cosmic event propels Simon into a parallel universe, where all his fabrications seem to have come true.
In French with English subtitles 
Free and open to the public | Bring your own chair or blanket and join us! 
Register here
Watch the trailer here