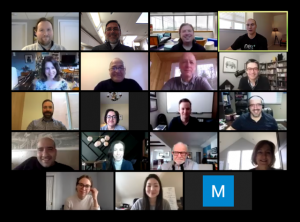 The Consulate General of Canada in Los Angeles and its satellite office in San Diego have designed a program to establish a "technology highway" between Canada and Southern California (SoCal) to create and foster business partnerships between Canadian and Californian businesses in the region.
Named the SoCal Tech Highway, the program was originally applied to the fields of Education Technology (Ed-Tech), Sports-Tech, and Telehealth, and will be expanded to Ocean-Tech and Agriculture Technology (Agri-Tech), among others. Telehealth became front and center due to the pandemic and the need for health care providers to deliver remote care in unique and secure ways. Telehealth is not a new concept, but the COVID-19 pandemic accelerated the adoption of new ways of care delivery that have the potential to remain beyond the pandemic.
Recognizing this opportunity for Canada to promote its leadership in telehealth solutions, the Consulate of Canada in San Diego executed the SoCal Tech Highway Telehealth program to help Canadian businesses expand their activities in Southern California. Six companies were selected based on specific criteria – such as commercial readiness and traction, team, technology, competitive landscape, market, and funding – that showed the most promise for the market. The program offered each company over 20 hours of high intensity and strategic services from mentors and expert advisors coordinated by the Consulate's local partner Nex Cubed. Part of the selection process ensured there was strong Diversity, Equity and Inclusion (DEI) representation, and as a result, some companies selected were woman-led, BIPOC, and LGBTQ. Programs such as the SoCal Tech Highway are perfect segues for Canadian businesses to expand to other international markets beyond the U.S, and given its success it will be offered once again in 2021.
A showcase and demonstration day was on April 14 where the six participating companies presented their telehealth solutions to an audience of top-tier customers, investors, and industry partners. You can view the demonstration day and showcase here.