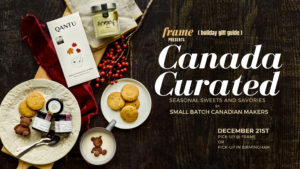 The American market, especially the metropolitan areas that border Canada such as Detroit, is an important first export destination for many Canadian food and beverage companies. With similar cultural and linguistic backgrounds and large consumer bases, these areas allow growing companies to gain exporting skills while offering significant market expansion opportunities.
However, despite being a natural first export destination, the U.S. marketplace comes with hurdles. Namely, the market is saturated with established firms. along with emerging startups that are continuously re-imagining the industry. To break in, new exporters often have to be nimble and take advantage of creative partnerships to begin the scaling process.
One such partnership is a new initiative between Canada's Consulate General in Detroit and Frame, a foodie-oriented creative space in Hazel Park, Michigan, located just north of the city. In 'normal' times Frame focuses on experiential dining, and is locally renowned for the creative way in which diners and chefs interact. But with the onset of COVID, Frame has pivoted and started offering curated gift sets that bring their unique experience into clients' homes.
The initiative with the Consulate-General is entitled CANADA CURATED: SEASONAL SWEETS AND SAVORIES BY SMALL BATCH CANADIAN MAKERS. The creative team at Frame has developed a custom curated gift experience of artisanal products featuring five Canadian producers: Poseidn (QC), Real Treat (AB), The Preservatory (BC), Wendell Estate (SK), and Qantu (QC). They are also assisting with local media promotion of the Gift Boxes, which Frame has described as follows:
 "Game changing homemade salted caramel shorties with fennel. Insanely brilliant white raw honey from the Canadian prairies. Standout farm based artisanal jams in really innovative flavor pairings (think raspberry merlot & peppercorn). Next level cocoa beans transformed into a bar of pure bliss with pure maple sugar and Maras fleur de sel. And Sleigh What? As if hot chocolate wasn't perfect enough! An adorable chocolate teddy bear that pops in a cup of hot milk for a 3D beverage. Each artisanal nibble is aglow with the holiday season's festive flavors".

The Boxes are available for purchase here until December 13th at a cost of  $82.00 + tax.
While Frame gift boxes are typically available to those living in the Detroit area, they have offered to ship the Canada Curated box to readers of Connect2Canada. If you are interested in purchasing a box and would like it shipped to you, please email [email protected] with your name and address and they will follow up directly.
The Consulate General's partnership with Frame is a great example of how small scale Canadian producers looking to get into the export market in the U.S. can partner with locally respected establishments as a 'first step' in getting their products to market. The Consulate General plans to continue to work with their Canadian clients featured in the Gift Box and leverage partnerships with other independent and specialty retailers in the region.
Related Products: