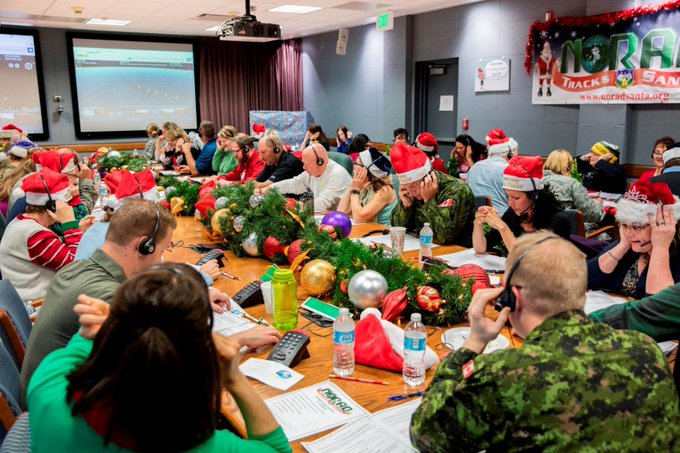 For over 60 years, Canadians and Americans have worked together at the North American Aerospace Defense Command (NORAD) to keep North America safe. For the 64th time, they will also track Santa's journey from the North Pole to bring holiday cheer to families around the world!
In 1955, a local newspaper advertisement informed children they could call Santa directly – only the contact number in the advertisement was misprinted. Instead of reaching Santa, the phone rang through to the crew commander on duty at the Continental Air Defense Command Operations (the predecessor to NORAD), U.S. Air Force Colonel Harry Shoup. Col. Shoup was quick to realize a mistake had been made, and assured the child he was Santa. Col. Shoup then assigned a duty officer to continue answering calls. Thus, a tradition was born, and continued when NORAD was formed in 1958. Each year since, NORAD has reported Santa's location on Dec. 24 to millions of children and families.
This year, website visitors can watch Santa make preparations for his flight and call 1-877-HiNORAD to find Santa's whereabouts. Anyone with an Amazon Alexa can ask for Santa's location through the NORAD Tracks Santa skill for Amazon Alexa, and OnStar members can push the blue OnStar button in their vehicles to locate Santa.
If you're over interested in volunteering to help the NORAD Tracks Santa team take calls you can sign-up until December 12 at https://NORADSantaVolunteers.as.me. Volunteers must be older than 15 years of age and able to travel to Peterson Air Force Base in Colorado Springs, Colo. on Dec. 24.
Associated links