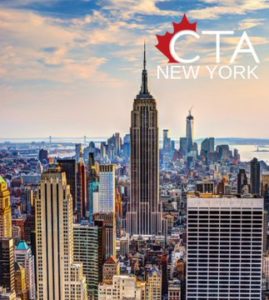 The Canadian Technology Accelerator (CTA) programs in New York City, Boston, and San Francisco introduce Canadian companies to U.S markets. Over a three month period, the CTA works with companies in the clean technology, information technology, and life sciences sectors to drive new business and raise capital. The CTA program also helps Canadian companies make connections through mentoring, and meet potential partners, investors, and customers in the U.S. – helping them grow and thrive outside of Canada.
Since the 2012 launch of its CTA, the Consulate General of Canada in New York has helped launch more than 224 innovative companies These high-potential young firms flourish and enrich the New York City entrepreneurial ecosystem, and act as brand ambassadors for Team Canada here in the U.S. And, these companies are actively contributing to their communities and our bilateral investment relationship. To date, CTA companies have raised $130 million in capital, $34 million in new revenue, and have created 300 jobs. 30 of the CTA companies have even established a physical presence in New York State.
This year, the CTA will expand to Mexico and several locations across Asia, supporting trade diversification for Canadian exporters. To build on this momentum, the Consulate General in New York and Embassy in Singapore are running a special CTA program this fall to bridge the gap between Canada and Asia by giving clients the ability to triangulate opportunities with firms that have a presence in two of the world's largest financial capitals. The five fintech companies – Blockcerts, Boxx Insurance, Owl.co, Tehama, and Life Raft – were in New York in early October and will be travelling to Singapore in November.
Related Posts:
Associated Links: