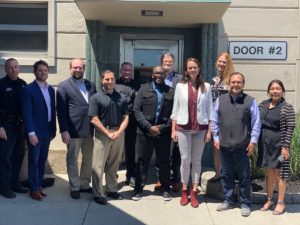 As part of our Rising State Leaders program, state legislators from across the country, including the Minnesota House Assistant Minority Leader, Florida House Deputy Democratic Leader, and Iowa Senate Majority Whip, spent four days touring Ontario to get an on the ground look at the Canada-U.S. relationship. The group stopped in Ottawa, Toronto, Mississauga, Oakville, and Niagara, meeting with stakeholders and Canadian officials for briefings on ways we work together to make Canadians and Americans safer and more prosperous. Notably, the state leaders visited Parliament to hear Question Period; participated in a roundtable discussion at the U.S. Embassy in Ottawa on priority issues in our bilateral relationship; met with Toronto's Mayor; and toured the Ford Motor assembly plant in Oakville to see how cars are manufactured on both sides of our borders.
Launched in 2006, the annual Rising State Leaders program has brought over 90 state legislators to Canada for educational tours underscoring the depth and breadth of our relationship with the U.S. Because so much that matters on both sides of our border happens at the state level – from environmental stewardship, to promoting trade and investment, to border cooperation, and more – the program is designed to build relationships with state legislators and to connect them with their provincial counterparts.
Our Rising State Leaders stay in touch with us throughout their careers (we are friends and neighbours after all) and truly are rising state leaders. One of our alumni—Laura Kelly—was elected Governor of Kansas last year; and another—Katie Hobbs—was recently elected as Arizona's Secretary of State.
See more from the Rising State Leaders tour in Canada on social media by following #RSLCanada. The next Rising State Leaders tour will take place in summer 2020. For more information on the program, please contact Weston Bachman at [email protected].
Related Posts: