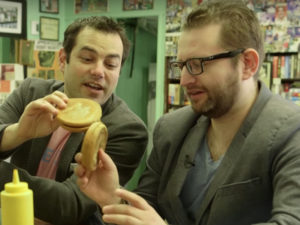 Sunday, May 12 – 6:45 PM E Street Cinema (sold out)
Wednesday, May – 15 6:30 PM AFI Silver Theatre
The sharply intellectual and marvelously zany comedic duo behind the viral Yiddish-language web series YidLife Crisis return to their city of birth, Montreal, on a mission. On the verge of middle age, Eli Batalion and Jamie Elman have a hankering for the Jewish Montreal of their youth, not to mention its rich culinary heritage. They set out to eat their way through the city, along the way re-engaging and discovering the Le Metropole's storied Jewish community, its mouth-watering eateries, and of course the scrumptious Jewish cooking that powers it all.
CHEWDAISM: A Taste of Jewish Montreal is an hour-long documentary following Jamie and Eli as they discover the roots of the city's Jewish community through a series of classical Jewish eateries telling the story of their community in the last 100 years, with various guests along the way sharing tales and meals.
Tickets are still available for Yidlive! on Saturday, May 11, 2019.