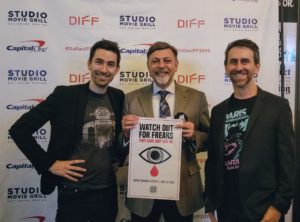 On April 15, the Dallas International Film Festival screened the sci-fi thriller FREAKS, a Canadian film produced, directed, and written by Zach Lipovsky (Canadian) and Adam Stein (American).  The Consulate General in Dallas hosted a reception prior to the film, and Zach and Adam took questions about the film following the screening.
The film was an Official Selection at the Toronto Film Festival (TIFF) in 2018. According to the TIFF website, "Shot through with paranoia and claustrophobia, Zach Lipovsky and Adam Stein's genre-bending Freaks focuses on seven-year-old Chloe (Lexy Kolker) and her constantly distraught father (Emile Hirsch). Isolated and desperate to get outside and experience life beyond the crumbling walls of their dilapidated house, Chloe finally makes a break for it when her sleep-deprived father drifts off. But the outside world isn't all she envisioned."
FREAKS was largely filmed in Vancouver and will be distributed by Well Go Entertainment, a Plano, TX-based company. Look for the film coming to US theatres in August 2019.