Recently, Canada's Consul General in Detroit, Joe Comartin, visited Indiana to meet with Governor Eric Holcomb and other key political and business leaders to talk about how USMCA will benefit the state and why the Section 232 steel and aluminum tariffs need to be lifted.
Canada is Indiana's top customer. Last year, Canada traded $21.3 billion in goods and services with Indiana, including almost $3 billion in motor vehicle parts. In addition to integrated supply chains in this sector, Canadian companies are investing in the state. Recently, Montreal-based Dorel Juvenile moved production of 1.4 million car seats, strollers, and other infant safety items from China to Columbus, Indiana, creating dozens of new jobs.
Consul General Joe Comartin underscored the importance of strengthening the bilateral relationship and removing trade barriers for Indiana businesses and consumers to the Elkart Truth.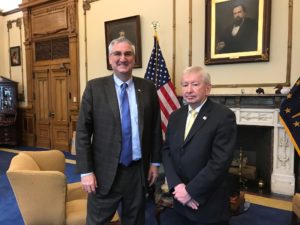 Related Posts