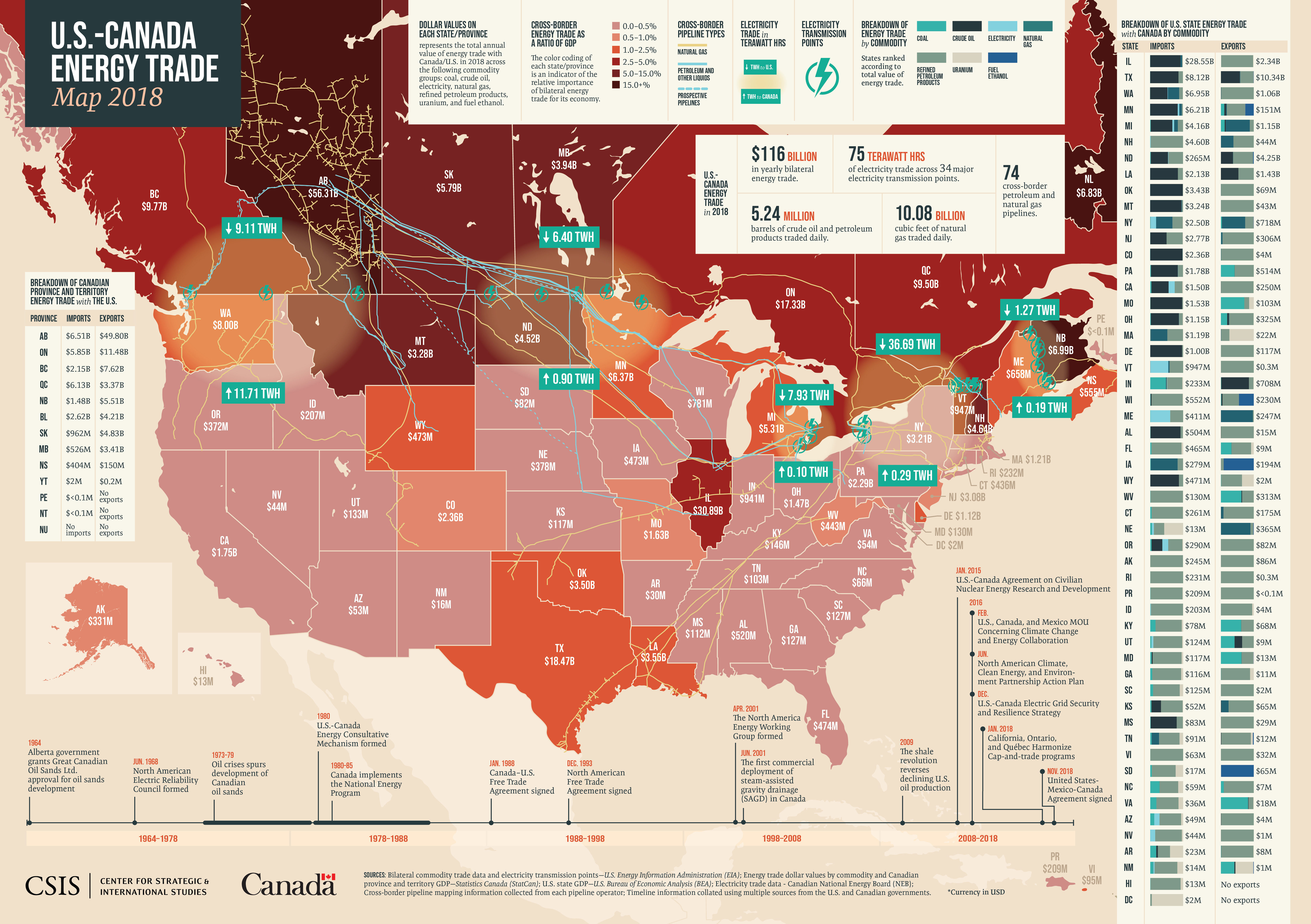 The Center for Strategic and International Studies (CSIS) recently published an updated version of their U.S.-Canada Energy Trade Map, illustrating the vast and diverse energy trade that takes place between Canada and the U.S. – an integral part of the overall bilateral trade relationship. The Map, which uses 2018 data from the U.S. Energy Information Administration, the U.S. Bureau of Economic Analysis, Statistics Canada, and the National Energy Board, highlights the cross-border trade in electricity, oil, and natural gas.
The Map shows the economic value for each U.S. state and Canadian province and territory of energy trade with the other country. At $56.3 billion USD for 2018, Alberta is the province that has the largest energy trade relationship with the U.S. On the U.S. side, Illinois tops the list for the most energy trade with Canada at $30.9 billion USD (significant amounts of Western Canadian crude oil exported to the U.S. arrive in Illinois via pipeline).
"Thanks to historical as well as ongoing efforts to integrate the energy systems of the United States and Canada, North America is now one of the most energy-advantaged continents in the world" said CSIS Associate Fellow Andrew Stanley, the Map's principal architect. "As demand for energy on the continent slows and production proceeds to grow, there is great opportunity for the two countries to continue this cooperation to meet the growing demands of export markets, while also working together to address the issue of climate change."
The Map also includes a timeline of significant milestones that span the history of the Canada-U.S. energy relationship, including major energy production developments in both countries, and international agreements and partnerships that have deepened our energy connections. The Embassy is pleased to have partnered with CSIS on this project, as it conveys the importance of this energy relationship, both in terms of security and the economy.
Related Posts: